Just for Mom!
Celebrate Mother's Day with some private time for yourself! Make every precious second count with the luxurious time-savers from LIFTLAB. The clinically-proven duo of advanced, anti-aging skin rejuvenators will leave skin fresh and glowing in minutes, giving you plenty of time to enjoy Mother's Day with your family!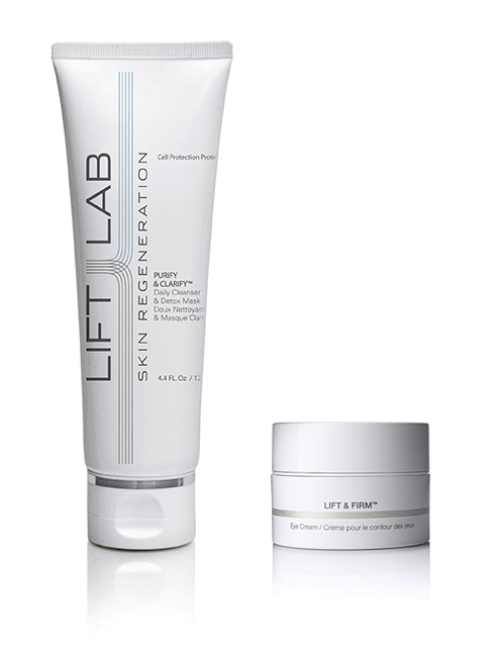 We all know that no one is busier—or more sleep-deprived—than today's on-the-go mom. Between 2 a.m. feedings, coping with the Terrible Twos, car-pooling, organizing play dates and managing the balance between work and family, you've become a master at multi-tasking. You may, however, put your own needs for a little TLC at the bottom of your to-do list. But taking time for yourself is more than self-indulgent. It's not only vital to keeping you fresh and energized, it's a must so that you can keep calm and carry on.   
It is well documented that levels of cortisol (the stress hormone) go up when we're under stress or sleep-deprived. Your skin's natural repair system is short-changed, and the increase in blood sugar can impair the barrier function of the skin, leading to dehydration, irritation and inflammation. Fine lines look more obvious, and if your eye muscles aren't well rested, the blood vessels dilate, resulting in dark circles and under-eye puffiness.
This Mother's Day, LIFTLAB comes to the rescue with the ultimate in multi-tasking, luxury skin care, an age-defying two-step system that gives tired, stressed-out skin a lift —fast! Like all LIFTLAB formulas, each product is powered with patented Cell Protection Proteins® (CPP™)—first discovered as the secret to survival in plants and marine life that thrive in icy Arctic waters. A 100% natural biological ingredient, CPP™ is unprecedented in not only protecting cells and balancing skin's moisture level, but also boosting the skin's natural regeneration process. The result: an unparalleled skin care system that is naturally protective, intensely moisturizing and effectively damage-reversing. Now skin recovery and repair can be both high-tech and delightfully luxurious.  And fit into any mom's jam-packed schedule with ease!
Enter now for your chance to win the LIFTLAB PURIFY & CLARIFY™ Daily Cleanser & Detox Mask and LIFT & FIRM™ Eye Cream. 
For more information visit www.theliftlab.com. 
Enter now for your chance to win!