LaseResults® High Fluence Antioxident Peel System® Giveaway
GET THIS AMAZING, NEW, AT-HOME, ANTI-OXIDANT PEEL SYSTEM CONCEIVED AND DEVELOPED BY DERMATOLOGIC LASER SURGEON ERIC BERNSTEIN!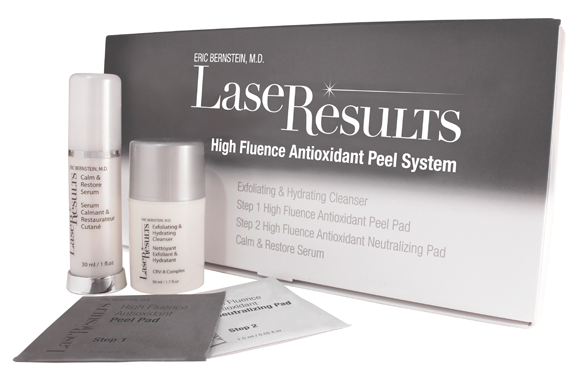 Chemical peels have been around for a long time because they work! Eric F. Bernstein, M.D., M.S.E. and the team at LaseResults created the LaseResults® High Fluence Antioxident Peel System® to make your skin look smoother and healthier. Our optimized anti-oxidant AHA peel is part of this complete skin-care system designed to improve the appearance of photodamaged or acne-prone skin. Dr. Bernstein and his team have adapted the professional-strength in-office peel pioneered by Dr. Bernstein and used by leading laser physicians around the world for you to use at home. This peel system exfoliates dry skin, stimulates cell renewal, revealing a revitalized skin surface.
Company Description: 
Dr. Bernstein's new LaseResults® skin care collection has been featured in top beauty magazines such as O, The Oprah Magazine, Marie Claire, Harper's BAZAAR, Women's Health, and Allure and is the result of his personal life mission to bring the most effective symphony of ingredients to people who want to halt or reverse the signs of skin aging and improve the appearance of sun-damaged skin or photoaging. This collection of high-performance products is made with Dr. Bernstein's own patent-pending CRV-8 complex to protect skin against harsh environmental elements and achieve real results you can see every day.
Dr. Eric Bernstein is a world-renowned dermatologic laser surgeon and researcher, who has dedicated more than 20 years studying how skin ages, the effect of the sunlight on the skin, and the most advanced strategies to prevent and reverse the aging process. Dr. Bernstein is a respected scientist and researcher and an inventive healer, who has spent his life creating ways to improve the quality of skin. People across America have already benefited from technologies and inventions that Dr. Bernstein has developed that are being used by major companies around the world, resulting in healthier, more beautiful skin. 
Click here for more information.
Connect with LaseResults on Facebook and Twitter. 
Enter now for your chance to win the LaseResults® High Fluence Antioxident Peel System Giveaway!
Entries are unlimited.