The next generation of skin care!
Enhance the beauty and long-term health of your skin with DermaEarth anti-aging skin care products!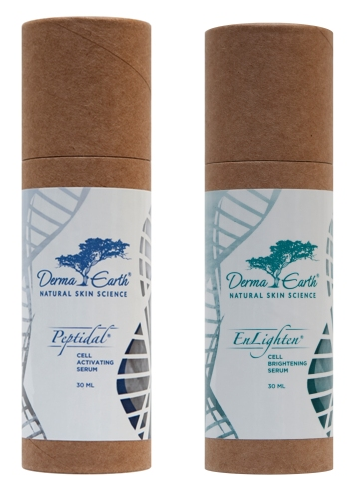 DermaEarth is committed to the idea that anti-aging products can be free of unwanted chemicals, preservatives, colors and fragrances and still deliver scientifically proven, visible results. DermaEarth formulations do not contain natural or chemical ingredients that are recognized, or even suspect, as being undesirable. The Rx grade formulation technology harnesses the potent restorative power of natural ingredients, while minimizing any unwanted side effects and toxicities. 
Two lucky winners will receive one bottle of each of the following DermaEarth Skin Care products:
Peptidal – Cell Activating Serum

High-performing lab natural peptides scientifically selected to ensure synergistic benefits, delivered at optimal concentrations for ultimate wrinkle reducing benefits.
Proven to reverse the visible signs of aging skin today and slow the development of unwanted wrinkle formation in the future.
Clinically proven, visible results in 56 days.
EnLighten – Cell Brightening Serum

Does not contain suspect ingredients, such as hydroquinone, kojic acid, nor arbutin.
Utilizes multiples melanin suppressing technologies to correct what you see today and inhibit production of unwanted pigmentation in the future.
In 28 days 90% reported less hyper pigmentation, 55% saw a reduction in skin "shine" and 36% reported reduction in the visibility of pore size
Click here to purchase DermaEarth products from SkinCareHeaven.com!
Enter now for your chance to win the DermaEarth Skin Care Giveaway!
Entries are unlimited. 
Check out more SheKnows Giveaways!