Show Support For America's Veterans
A great way for Americans to show pride and gratitude for Veterans.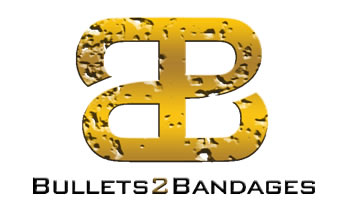 After serving as Explosive Ordnance Disposal Officers in the U.S. Navy, Erik Spalding and Cole Evans desired to give back to those affected by conflict. The two U.S. Naval Academy graduates founded the concept to provide individuals with a way to support their country through fashionable purchases. By crafting bullet pendants out of fired ammunition and branded dog tags, Bullets2Bandages.org sells its products online and donates proceeds to the Travis Manion Foundation: a non-profit organization whose mission is "to assist wounded and disabled veterans and the families of Fallen Heroes."
For more information about Bullets2Bandages, visit www.Bullets2Bandages.org
One winner will receive the following:
- Bracelet / Earring Combo
- 5.56mm Bandolier Belt
- 50 Cal Bracelet W/ Beads           
- Thin Chain, With Bullet, and Dog Tag
Enter now for your chance to win!
Entries are unlimited.
PointsandPrizes.com Keyword: BULLETS worth 100 points good through 5/9/12.