Love being beautiful
Enter to win a FlowerBomb Viktor Rolf Travel Fragrance Set from Amour Genesis!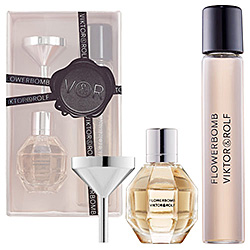 The Amour Genesis brand caters to women of all different ages, ethnic groups, physical appearances, social backgrounds and sexual orientations. With the creativity and success of her entrepreneurship, beauty and fashion blogs, and talented spokesperson and brand ambassador work, women from all over the world will be inspired to embrace their true beauty, be confident, and most importantly love who they are. 
Spokesmodel and host of Amour Genesis, Genesis Emery, is giving a FlowerBomb Viktor Rolf Travel Fragrance Set to help every woman feel beautiful and fresh!  Amour Genesis firmly believes that all women should feel beautiful and love every part about themselves regardless of society's standards or stereotypes of beauty and image. 
Click here for more information and follow on Facebook and Twitter!
Enter now for your chance to win!
Entries are unlimited.
PointsandPrizes.com Keyword: GENESIS worth 100 points good through 6/21/12.