Momma à La Mode
Who says that once you give birth, you've got to resign yourself to wearing unflattering, butt-flattening jeans? With so many styles on the market, there's no excuse to head to the tapered rack. These styles flatter an array of body types, and more importantly, you'll be one hot momma!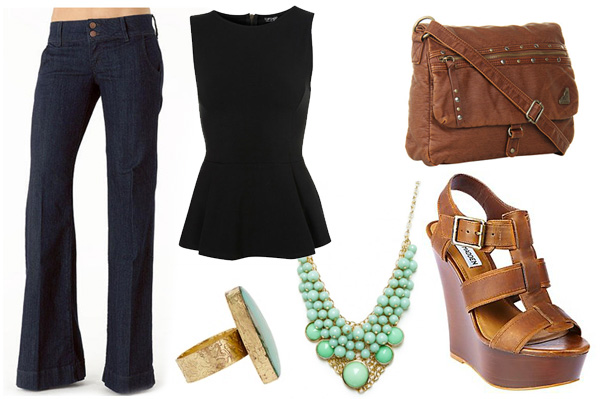 This is the perfect balance of casualness and professionalism. When you're having one of those days when you just have no idea how to dress for the occasion, the trouser jean (AlloyApparel.com, $40) is a great alternative to your dingy hangout jeans or your full-blown slacks. Pair it with a large, diaper-holding satchel (Zappos.com, $44), a statement necklace (ShopSosie.com, $28), a cute mint ring (ASOS.com, $10) and a fab, versatile black peplum top (Nordstrom, $36) and top it off with comfortable, durable brown leather wedges (Steve Madden, $100).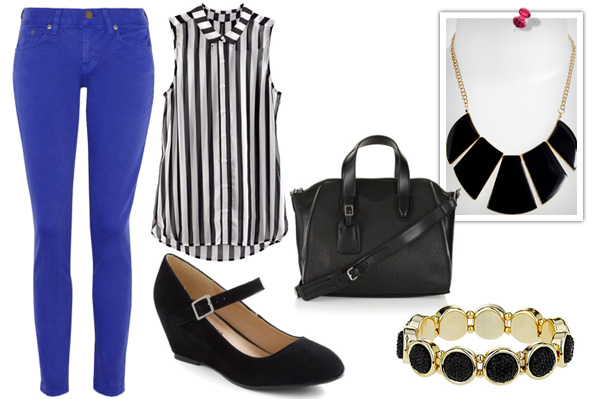 Kapow! An otherwise plain outfit is spruced up when you add colored denim in place of standard colors. If you don't want to go too outlandish, snag a pair of cobalt-blue skinnies (TheOutnet.com, $40). Add a fun top (Chictopia.com, $25) and accessorize with a large multi-way bag (Topshop.com, $84); comfy, low Mary Jane wedges (ModCloth.com, $33); a bold necklace (Nordstrom, $20) and a dainty bracelet (DorothyPerkins.com, $15).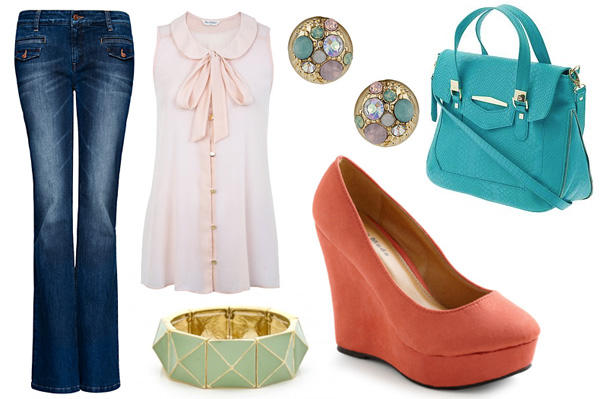 Boot-cut jeans are flattering on just about any body type, and this flap-pocket version (Mango.com, $30) lifts your butt and works with any top. We paired it with a fun, feminine and comfortable sleeveless top (MissSelfridge.com, $53), a standout bag (Piperlime.com, $78) and dusty peach wedges (ModCloth.com, $33). Don't forget accessories like these throwback studs (DorothyPerkins.com, $9) and this mint bracelet (InsaneJungle.com, $17).
4
Dress 'em up, dress 'em down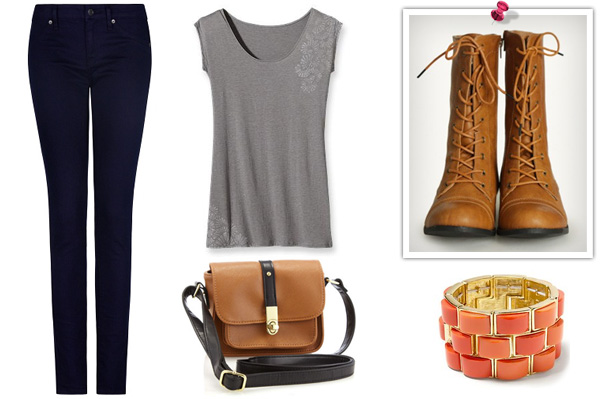 A fantastic pair of dark-wash skinnies is a treasure. If you find the ideal pair, like these (Mango.com, $40), wear them every possible chance you get! Here we dressed them down with some menswear-inspired boots (ShopRuche.com, $47), a black-and-brown side satchel (Accessorize.com, $23) and a slouchy yet fashionable cotton top (Patagonia.com, $49). Put the frosting on your casual cake with a studded necklace (BaubleBar.com, $28) and a peach tile bracelet (BananaRepublic.com, $45).
5
Distressed, not stressed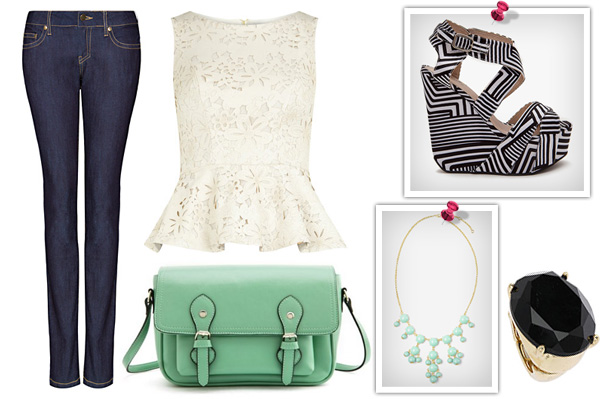 Yes, you former '90s teenagers, distressed denim is here to stay. Embrace two trends at once with these distressed skinnies (Mango.com, $25), paired with a frilly peplum top (DorothyPerkins.com, $57) and zebra-inspired wedges (AgaciStore.com, $32). Make it cool with mint accessories like a double-buckle satchel (CharlotteRusse.com, $20), a beautiful bubble necklace (urbanpeachboutique.com, $16) and a black, bold ring (WallisFashion.com, $7).
More mom fashion
The best jean shorts for your body type
Mama loves style: Mint green and pleats
5 Fashion-savvy gifts for the stylish mom