(page 4 of 4)
Nail fashion fun!
Here are four fun and easy DIY nail designs inspired by the collections of the best fashion designers in the biz!

Etro-inspired nails
Nothing screams spring more than floral. While a flowery print may be an obvious sartorial choice, it is still surprising to see on nails — especially if done in an abstract way! These nails were inspired by the prints seen at Etro's spring 2013 show, specifically by a pair of black and white pants with a floral stripe.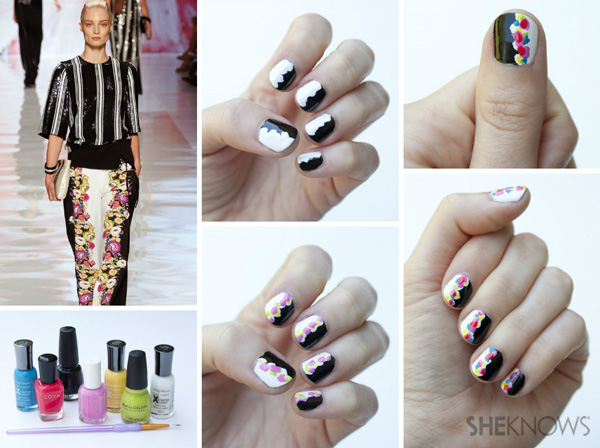 Supplies:
The supplies you need include: A small paint brush, Sally Hansen Blue Me Away, Zoya Kara, China Glaze Liquid Leather, Essie Lovie Dovie, Sally Hansen Mellow Yellow, SinfulColors Innocent and Sally Hansen White On.
Instructions:
Start by painting half of the nail black and let it dry. You don't have to be precise because when it's dry, you will then paint white alongside it making a textured line along the middle of the nail.
With the small paint brush, make some small blobs of color (representing an abstract flower), starting with yellow, then adding a small amount of green. Follow this process with a larger shape of light pink and then a bit of darker pink in the middle of that. Give it a few small blue accents as well.
When it's dry, finish with a top coat to make the flower you have just created really pop.
More nail designs
Bridal-inspired nail art
Rebecca Minkoff-inspired nail designs
Creepy Halloween nail designs
Photo credits: Getty Images