(page 3 of 4)
Nail fashion fun!
Here are four fun and easy DIY nail designs inspired by the collections of the best fashion designers in the biz!

Elie Saab-inspired nails
This is a fun abstract design inspired by some of the prints from the Elie Saab spring 2013 show. Their breezy chiffon dresses were made more dramatic with this bold, playful print and they were inspired to translate it into nail art. It's almost like a spring camouflage!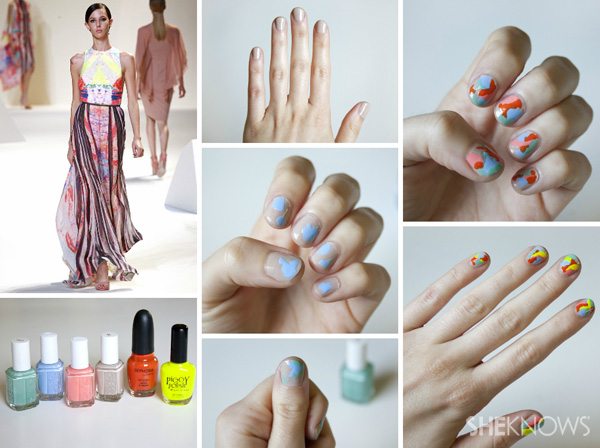 Supplies:
The colors used in this particular design are Essie Turquoise and Caicos, Bikini So Teeny, Haute as Hello and Sand Tropez; Sephora by OPI Hi Def; Piggy Polish You Had Me At Yellow.
Instructions:
To kick things off, you need to start with a solid base coat of Sand Tropez.
Now it's time to let your creative side take over. Add in some abstract splotches of blue. There are no specific rules to how you add the blue — just make sure you have fun with it.
Now you can add the finishing touches with more splotches in various shapes with each of the remaining colors. Like I said before, the only rule here is that you need to have fun with it.