(page 2 of 4)
Nail fashion fun!
Here are four fun and easy DIY nail designs inspired by the collections of the best fashion designers in the biz!

Diesel-inspired nails
A number of the looks at the Diesel spring 2013 show involved large crosshatch fabric. The graphic way they filled in parts of the design is very modern and breezy and perfect for spring.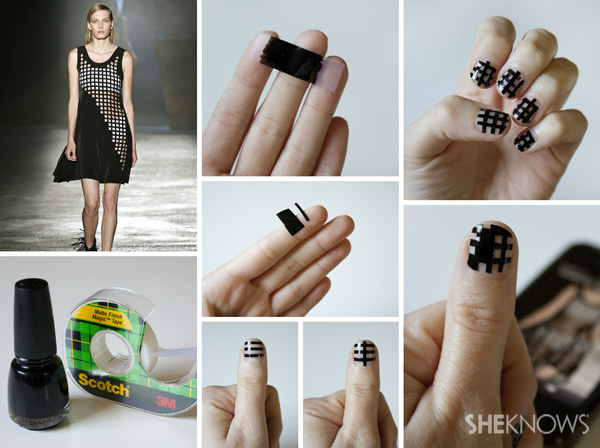 Supplies:
This nail design is a little bit more involved. You will need some Scotch tape and China Glaze Liquid Leather.
Instructions:
Paint two coats of black polish on a strip of tape and let it dry. Make sure you allow the proper time for the paint to dry, as it is a very important step in this process. You'll need one section of tape for every finger.
Cut off the tips of the piece of tape, and then cut a thin strip off that piece.
Place the first strip of tape across the middle of the nail. Repeat this process for strips above and below. Place a strip of tape vertically down the middle of the nail. Once again you need to repeat this step with two or more strips of tape, one on each side. This completes the crosshatch design.
Using the black paint brush and a photo of the runway for inspiration, color in some blocks to make a pattern. You probably want to switch up the pattern for each nail and add some variety.