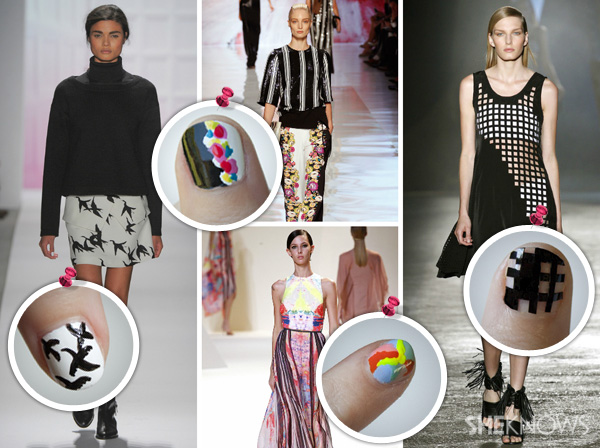 Nail fashion fun!
Here are four fun and easy DIY nail designs inspired by the collections of the best fashion designers in the biz!

Paloma print nails inspired by Tibi
The Paloma print from Tibi's fall 2012 collection is a fun and graphic statement. The silhouettes of the flying birds is slightly abstract and is a great option for a tropical nail design any time of the year.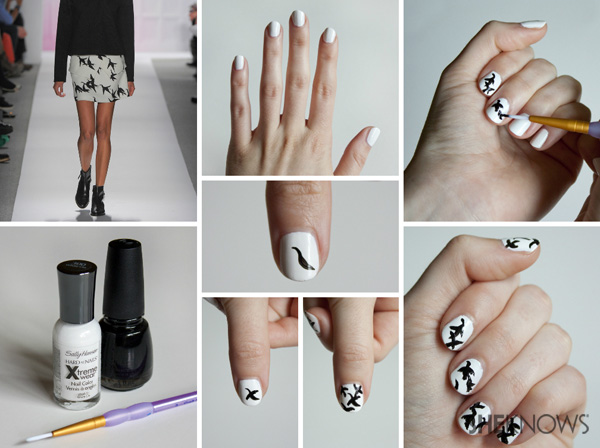 Supplies:
To complete this simple yet elegant nail design, there are a few supplies you'll need. You need to buy Sally Hansen White On as well as China Glaze Liquid Leather. Of course you can't forget the paint brush either. It is best to use a small paint brush so you can truly capture the detail in this design.
Instructions:
When you start, make sure your nails are clean. It is now time to begin with a thick white base. This is going to be the background and you want to make sure it provides the proper backdrop for the birds.
Using your paint brush, paint a curved line and fill in part of it. This will make the bird's body. Then paint a perpendicular line curved through the middle. Fill in the line and feather the bottom part of it to create the bird's wings. Using this same method, paint more birds on the nail in different positions. The sky is the limit on how many birds you want to add per nail.
Use all of the above steps on the rest of your nails. It would probably be smart to make varying patterns from nail to nail.
Congratulations! You have almost completed the task. All you have to do now is add a top coat or sealer to really make the design pop. Doesn't it look wonderful? Don't be afraid to go out and show off your hard work.