What their
outfits reveal
Can you really tell a lot about a mother's parenting style by looking at the clothing she wears? As we celebrate Mother's Day, it's an opportunity to examine some of Hollywood's most photographed moms. So let's peel back the layers of their unique styles and gain a deeper understanding of not only their fashion sense but their values, rules and how they steer the family ship in style.

Celebrity mom: Kate Hudson
Parenting style: Go with the flow
This mom has the spirit of a hippie, only now she has a child on her hip too. She grew up cherishing freedom — both physically (girl loves to travel!) and emotionally — and wants to give her children those same liberties. Her global-inspired jewelry speaks to her love of travel and her wish for her children to have a macro-perspective of the world. She doesn't believe in strict schedules and thinks creativity thrives in a little chaos, hence the non-conventional mish-mash attire.
Both Kate and her clothing reject structure and feel comfortable on the fringe — literally. This is one mom who will let her children learn from their own mistakes because that's what she had to do.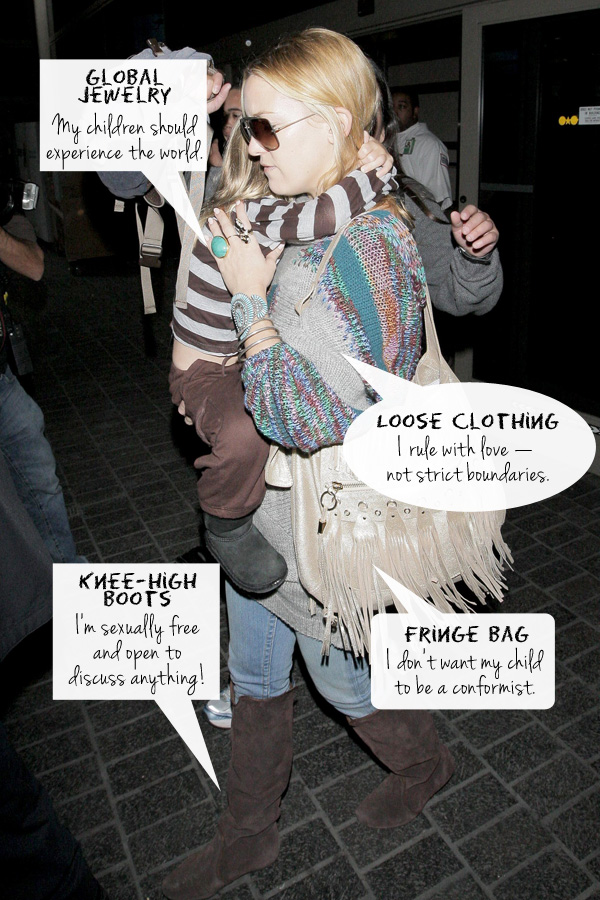 Celebrity mom: Jennifer Garner
Parenting style: Keepin' it real
Jennifer's style reflects her unpretentious and traditional values. She may be a celebrity, but she never wants her kids to feel like they've been raised by anyone other than Mom. She looks glam on the red carpet, but when she's with her kids, it's all about them, putting them first before anything, including having a paparazzi-worthy outfit.
Her faded jeans, khaki flat loafers, baggy cotton top and cross shoulder non-"it" bag are perfectly suited to a mom who is hands on and values functionality over fashion. Jen isn't afraid of getting her hands dirty (playing, baking, cleaning, schlepping!) and believes that the secret to raising well- adjusted kids is warmth, lots of personal attention and clear boundaries.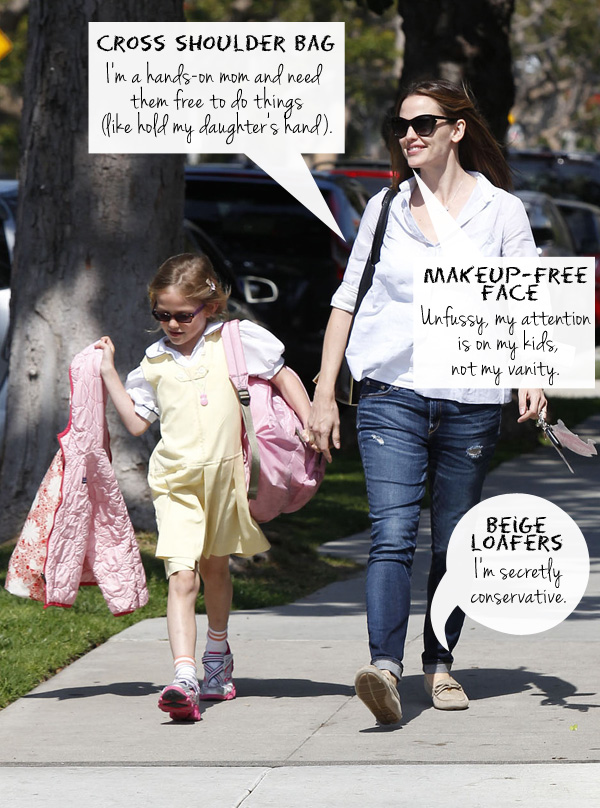 Celebrity mom: Gwen Stefani
Parenting style: Pushing boundaries yet disciplined
You have endless energy when it comes to your career and your kids. You have always had a very youthful spirit and really connect to your kids on their level and 'get' their young, creative minds. Your style, part Marilyn Monroe part Marilyn Manson, is as much a part of you as anything and you feel like the best version of yourself when you've taken the time to dress to thrill.
Your kids have inherited your cool factor and are popular with the kids. They have learned that life is about opening your eyes to different people, places and experiences, having inherited your pioneering spirit. Having said that, you are all about discipline and focus and have taught your kids to work hard and go after what they want.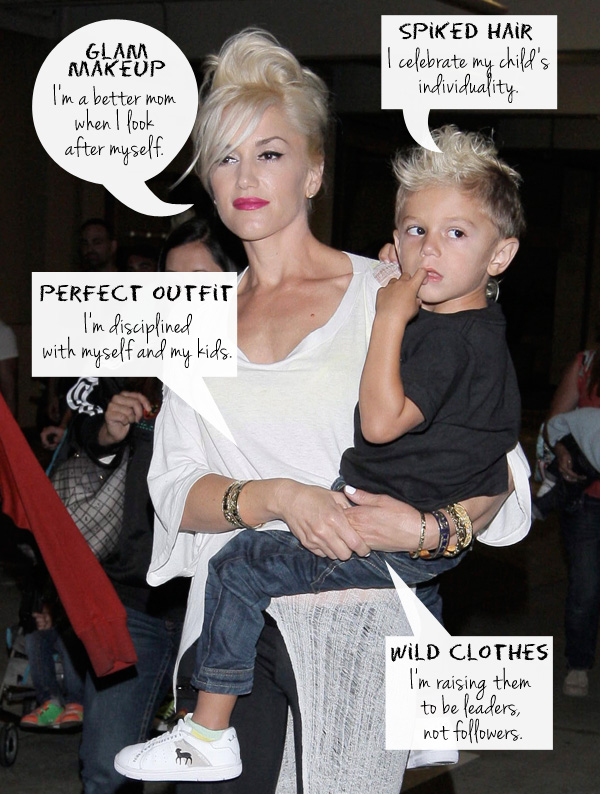 More style
What do celebrity couples' outfits reveal about their relationship?
What do the stars' Oscars styles reveal about their personalities?
Grammys fashion: What the stars' risque styles really reveal about them
Photo credit: BAC/WENN.com, WENN.com, WENN.com,