Make Your Nude Nails POP!
This year, the nail trend at the Oscars seemed to be "less is more." We couldn't be happier that some of our favorite nominees like Jennifer Lawrence and Jessica Chastain chose soft colored nail polishes. Below is how to pick the perfect nude polish that is sure to complement your skin!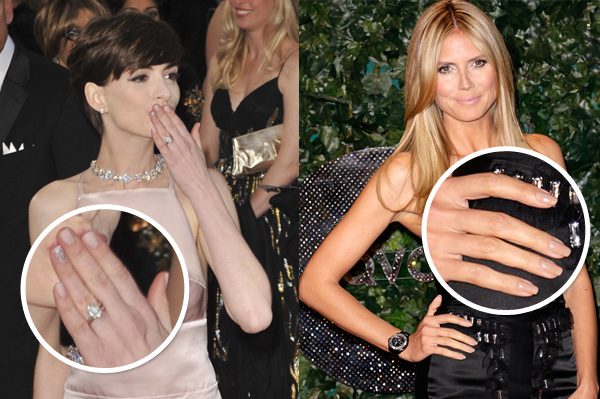 Owner of the trendy Los Angeles and Japan based MARS the Salon, Hiroko Fujikawa confirmed the new go-to look for nails this season by giving us a few tips and tricks on keeping our nude manicure red carpet ready. Pair Fujikawa's nail expertise with a SheKnows tweak, and your nails will be as stylish as ever!
Pick your perfect polish
Choosing your nail polish is going to be the make or break step for your manicure. Depending on your skin tone, personal style and daily schedule, you will want to pick a nail polish that suits you best. Fujikawa's top three favorite nail polishes for a nude manicure are Essie polish in Allure, Essie polish in Fed Up and OPI Samoan Sand. We couldn't agree more — these colors are too cute!
Because skin tone will play a key part in picking your go-to polish, we have put some of our favorite polishes into categories to make choosing a little bit easier.
Don't forget the basics
Now that we have our perfect nail polish picked, Fujikawa recommends a couple more ways to complement your nude manicure. Keep your nails short and sweet to add a more natural effect to your manicure. After giving your nails a trim, go over them with a decent amount of base coat polish. This will keep your manicure looking fresher longer. Take your time with your nude polish and be sure to cover every piece of your nail. Complete your new polished look with a glossy finish on top. Essie's No Chips Ahead will keep your nails shiny and long lasting. Voila! Mission accomplished — your nails now look Oscar carpet ready!
More ways to keep your nails red carpet ready
French manicure steps
Nail design tutorial
Maintain beautiful nails on the go
Photo credits: Apega/WENN.com, Brian To/WENN.com