Stress-Free Tresses
Hair products are best when they reduce steps rather than add to your routine. We like these nine new products for their simplicity and the lovely looks they help create.
(page 2 of 2)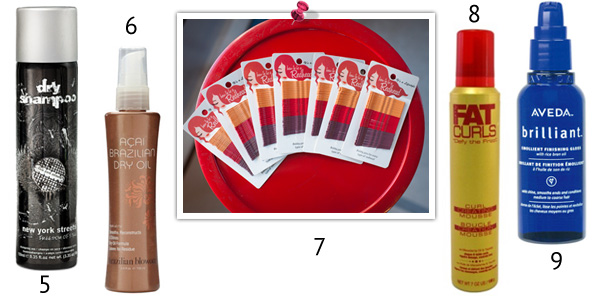 5
New York Streets
dry shampoo
A quick spritz of dry shampoo always sounds like a good idea until you spend a day looking like you're wearing a powdered wig. Enter New York Streets' dry shampoo, which sports a clear formula that won't show up in your hair. We like it for its fresh scent and the fact that it allows us to wear our styles just a little longer than is advisable. (New York Streets, $17)
6
Brazilian Blowout
acai dry oil
The recent boom of Brazilian Blowouts means that the next time you go to a salon and request a Brazilian, your aesthetician may ask, "Which kind?" A Brazilian Blowout is a specialized salon treatment that tames frizzy or damaged hair for about ten weeks. The treatment can last longer with Brazilian Blowout's new line of after-care products, including the dry oil. Simply smooth the oil through wet or dry hair and style to your heart's content. (Hermosa Beauty, $26)
7
How to Be a
Redhead bobby pins
Redheads have it rough sometimes. Between enduring heckles for freckles and hurtful jabs like "carrot top" and "ginger," redheaded beauties often start to feel like the odd ones out. Up until now, even bobby pins were only available in gold and brown, which are readily apparent in an auburn updo. But times are a-changin'. How to Be a Redhead now offers three shades of redhead-friendly bobby pins, from strawberry blonde to crimson. Now you can pin back your bangs without little gold or brown pins ruining your look. (How to Be a Redhead, $6)
8
Fat Curls curl-
creating mousse
Ladies with curly hair know a thing or two about springtime frizz, but they may not know a thing or two about how to prevent it. Fat Curls products specialize in the anti-frizz and anti-humidity concerns of our curly-haired sisters. We especially like the curl-creating mousse because it helps form bouncy, frizz-free curls without drying out hair. (Ulta, $9, only available in stores)
9
Aveda Brilliant emollient finishing gloss
I'm not sure what kind of magic happens when my hairdresser runs Aveda's finishing gloss through my blow out, but it truly is magic. Aveda's products are always bottled goodness, but this product in particular makes hair shine and look finished for days after an initial style. (Aveda, $27)
For more on beauty
Makeup looks to rock the checkout line
Anya's Emmy fashion diary: Let the trends inspire your wardrobe
Beauty is as beauty does: Readers' beauty routines revealed!