"Dress the body you have now, not the body you wish you had, or might have, if you lose those extra pounds."
Meet Liz
City: Phoenix, Arizona
Profession: Project manager and freelance writer
I've been plus sized most of my life. Toward the end of elementary school, I could wear my mom's leggings — don't judge, this was 1994 and I wasn't a "cool" kid. In junior high, I was squeezing into the largest size in Express, trying to wear trendy clothes like my friends. It was in sixth or seventh grade when I first walked into a Lane Bryant, and clothes fit me! A short time later, I discovered Fashion Bug had plus sizes. All of a sudden, I had options.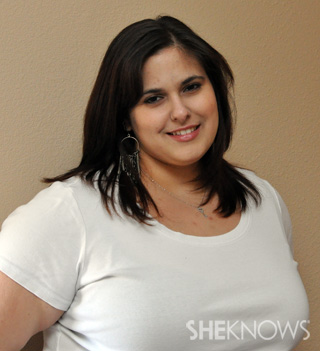 This was 15 years ago. Leaps and bounds have been made in the fashion world to cater to bigger girls since then. And while the options are out there and have improved tremendously, styles are still limited. For the hours of work a normal-sized girl needs to spend to find the right pair of jeans, it might take a plus-sized girl twice as long. And what options are out there? It is my belief that plus-sized girls can have style, too. We are stylish, cute and sexy. We have great friends, families and careers. Why should we be hidden in the far corners of department stores, next to the bathroom, and included as an afterthought in magazines — especially when the average American woman is a size 12 to 14? You can look great at any size, whether you're a 2, 12, 22 or 32.
Some of my favorite words of fashion wisdom come from fashion expert Tim Gunn. He tells designers in nearly every episode of Project Runway to pay attention to silhouette, proportion and fit. This is especially important for plus-sized girls. Just because something fits on your body, doesn't mean you should wear it. One of my high-school English teachers once complained that "Omar the tentmaker" made her clothes. I'd never heard that phrase before, but 10 years later, I haven't forgotten it. No woman wants to wear a tent, and quite frankly, it isn't flattering. A garment that fits you looks so much better than one that's too big or tent-like. You're not hiding anything under all of that fabric.
Style advice
Shop around: It takes work. Try things on, even if a garment doesn't have hanger appeal. My favorite dress looks frumpy on the hanger.
Accessorize: Don't forget accessories. Headbands, hats, jewelry, shoes, bags, etc. They are usually one-size-fits-all and can make (or break) an outfit. I love a cute purse, some statement jewelry, like big earrings and an Art Deco ring, and because I live in "the Valley of the Sun," my sunglasses.
Be confident in yourself: People pick up first and foremost on the attitude you project.
Don't settle: At the 2013 Academy Awards, Oscar-winner Octavia Spencer told E! reporters at the Governors Ball, "I'm not opposed to different designers [she wore a gown by Tadashi Shoji], but here's the thing, they're looking at twig bodies. It's very easy to dress perfection, it's very difficult to dress non-perfection... I want to look as good as everybody else." Don't buy something just because it fits. Wait to find pieces that flatter your figure and your personal style. You don't have to settle just because you're plus-sized. You shouldn't look good for your size, you should look good. Period.
How I would categorize my style: Classic with a rocker edge. I also love pieces with vintage details.
My favorite outfit: Dark-wash bootcut jeans (my favorites right now are from I.N.C. International Concepts and jcp by JCPenney), a comfy sweater and ballet flats.
My go-to stores and brands: Lane Bryant, I.N.C. at Macy's, Nordstrom.
Fashion faux pas: I hate going out for a nice dinner or a night on the town and seeing people in shorts and a T-shirt. Dress right for the occasion! A tracksuit, even a designer one, is probably not the right attire for Christmas dinner at a fancy restaurant.
Advice to live by from the professionals: "Dress the body you have now, not the body you wish you had, or might have, if you lose those extra pounds." — Stacy London and Clinton Kelly, What Not to Wear
More fashion
Dressing for your body type: Plus size
Being plus-size in a skinny world
Fashion must haves for plus size women - Daily Dish - Videos