Trend: Nude, pale, blush
It all started with Jessica Chastain who was the first of the nominees to arrive in a nude, sparkly Armani privé gown that complemented her skin. She set the neutral color trend for the night and was followed by Octavia Spencer, Anne Hathaway, Amanda Seyfried and Amy Adams.
What this means for you: Get used to these colors, as they are here to stay. We're going to be seeing neutral colors through spring and summer, so be sure to integrate them into your wardrobe, whether it's in the form of a top, accessory or cocktail dress for your next event.
Trend: White wow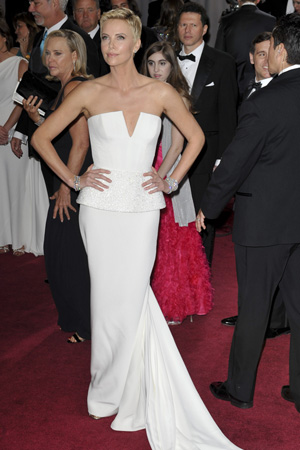 Stars like Charlize Theron, Queen Latifah, Zoe Saldana and Best Actress winner Jennifer Lawrence all wowed in white and did a great job of keeping their dresses red carpet glam and not too bridal. Sometimes the fear with wearing white is that it will give off a bridal look, but all of these stars managed to look like they were walking down the red carpet and not down the aisle.
What this means for you: Transition your winter white into spring white because this look is here to stay. Don't be afraid to pair white pants with a white top for a chic look — just be sure to finish it off with a metallic pair of shoes to accent your outfit.
Trend: Metallic is a must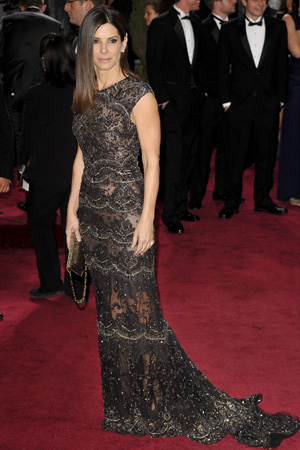 Metallic was the new black at the Oscars last night. Naomi Watts, Halle Berry, Catherine Zeta-Jones, Sandra Bullock, Stacy Keibler and Renee Zellweger dazzled in metallic shades of gunmetal, gold and silver. Metallics are always a way to stay neutral while exuding the perfect amount of pizzazz.
What this means for you: Every girl should have metallic in her wardrobe ready to go. Next time you're thinking about wearing basic black, try metallic instead.
Shine on
Once upon a time, we'd never dream of mixing metallics — in home decor, jewelry, accessories — it was a major fashion faux pas. Rules are made to be broken, and when it comes to the runway, the edgier the better. Click here to read more!
Trend: Pop of color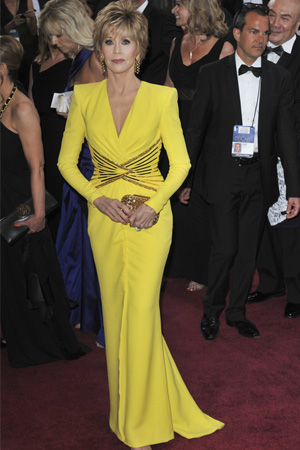 Color was few and far between on the carpet, but when it showed up, it was bright and made a statement. The colors varied from shades of blue to yellow, red and purple. Jane Fonda gets the award for flaunting the brightest color in her yellow Versace Couture gown and Jennifer Garner's purple Gucci number was the color to beat. Jennifer Aniston and Sally Fields both chose red Valentino gowns.
Aniston's full skirt silhouette was pretty yet predictable. Kerry Washington stood out in a coral Miu Miu gown, which perfectly complemented her skin tone. A standout moment on the carpet was when Helen Hunt revealed her Navy gown was from H&M, something everyone can relate to. Although color was scarcely seen on the carpet, the stars who did wear it wore it boldly.
What this means for you: Even if you have a neutral wardrobe, try incorporating a pop of color to offset your neutral look.
Amazing accessory
The accessories at this year's Oscars were generally minimal. Not many over-the-top pieces were seen, as stars kept it simple and polished. Most everyone had a strapless gown this year, which is the perfect backdrop for a stunning necklace. Look out for the backwards necklace trend to pop up in a few weeks, a la Jennifer Lawrence and her backwards Chopard number.
What this means for you: Get ahead of the trend and start wearing your own backward necklace now! Take a long necklace and let it hang down your back to achieve this statement look.
An eventful awards season has officially come to an end. So keep the good trends, forget about the bad ones, and stay stylish until the next show!
More from Anya
Anya says: What red carpet trends at the Golden Globes mean for you
10 Style secrets I've used on the red carpet
What every woman needs in her beauty bag
Photo credits: Apega/WENN.com