Get the look!
Want to know the secret to the perfect top knot? There's a little surprise inside the bun. Using a special donut-shaped padding creates the perfect top knot every time. These hair donuts are like a Wonderbra for your hair. They form the ideal shape every time. This is such a quick and easy hairstyle that it will have you out the door looking fab in only a few minutes. The top knot is great for second day hair too, as your hair will hold the shape even better.
Supplies:
A brush — I like a paddle brush or a bristle brush
A comb
An elastic
Bobby pins
Donut-shaped padding
Instructions:
Gather your hair into a high ponytail. I find this is easier if I flip my head over and brush my hair up, but whatever works for you! Make sure you have a strong elastic to hold your hair in the high ponytail.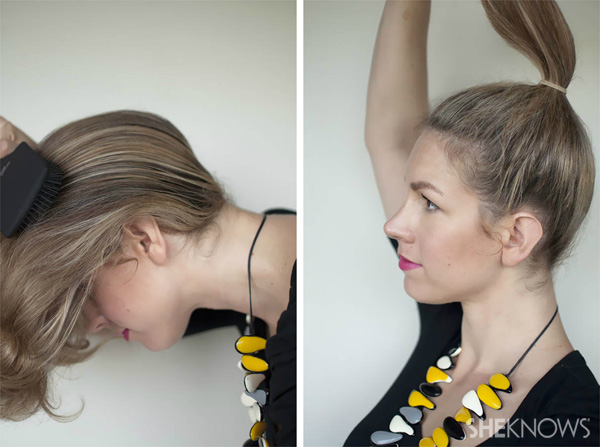 Pop your donut padding around your ponytail. Try to use padding that is close to your natural hair color.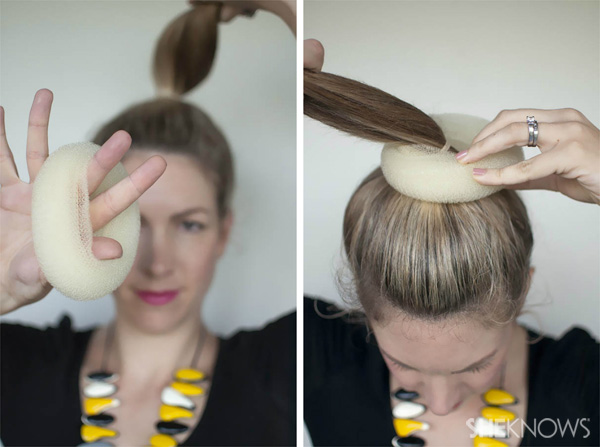 Tease your hair. Gently backcomb your ponytail to create more volume so you have enough hair to cover the donut.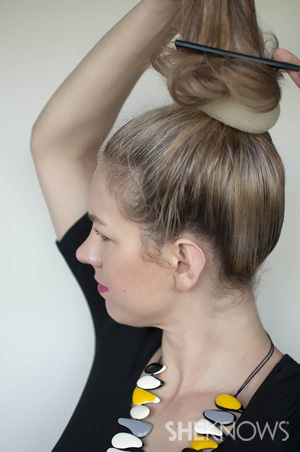 Hide the donut by wrapping your hair around it. Find the center of your ponytail and wrap your hair around evenly to cover the donut. Use bobby pins to secure the ends of your hair. You can also tuck your hair under the donut to keep it neat.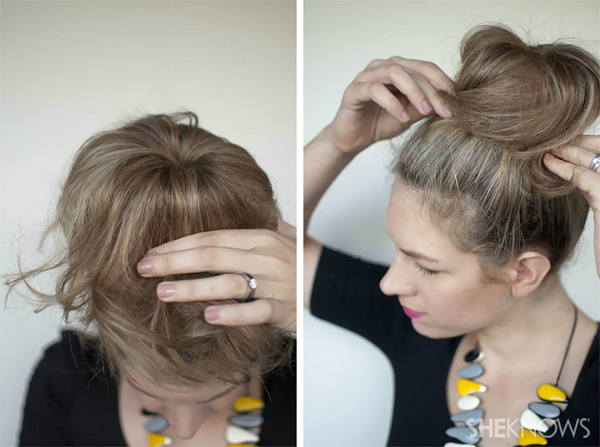 Finish with a spritz of hairspray to smooth any fuzzy flyaways. I like to smooth around my hairline, but I still keep the bun a little messy so that it looks more natural.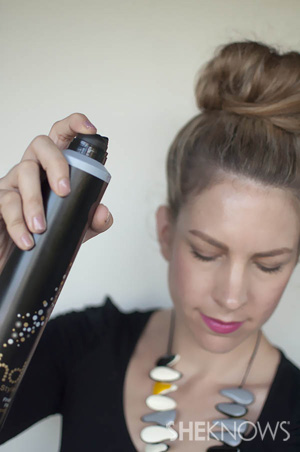 tip
Tease the ponytail and wrap the top knot so that your hair is a little messy. Pull at a few sections of hair to keep it a little uneven and more natural looking so you can't see an exact outline of the donut padding.
More hair how-tos
How to chalk your hair
How to put your hair into a sock bun
How to get beach hair