Beauty On A Budget
Pish posh! Why waste your hard-earned money on pricey beauty products when you could easily hit up your local drugstore and score everything you need for far less? We dish on what's actually worth it at CVS, Walgreens, Rite Aid and more!
(page 5 of 5)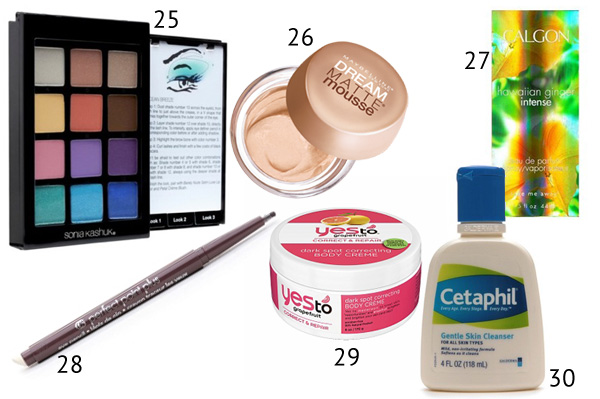 25
Sonia Kashuk Instructional Eye Palette
Who cares if you don't know how to create the ideal smoky eye? This handy-dandy eye palette kit comes equipped with 12 chic shades, plus step-by-step instructions and color-coded illustrations to take the guesswork out of applying eye shadow.
(Target, $20)
26
Maybelline Dream Matte Mousse Foundation
Treat your face to a flawless complexion when you smooth on this to-die-for, air-soft mousse foundation. It's available in 16 sexy shades, so there's a color for everyone!
(drugstores nationwide, $10)
27
Calgon Hawaiian Ginger
Eau De Parfum
Transport yourself to a tropical paradise with this scent-sational Eau De Parfum spray featuring intensely fragrant notes of orange flower, crystallized ginger and luscious melon. It doesn't get much better than this!
(CVS, $12)
28
CoverGirl Perfect Point Plus Self-Sharpening Eye Pencil
Forget fidgeting with annoying eye pencils that go dull after only a few uses. This baby self-sharpens; is water-resistant; and delivers smooth, blendable color each and every time. Your peepers will totally appreciate you.
(drugstores nationwide, $7)
29
Yes to Grapefruit Spot Correcting Body Cream
Don't let your face steal all the attention. Be sure to show your body a little love too with this brightening body cream that helps erase those pesky dark spots. It makes your skin feel firmer, smoother and much more resilient too.
(Drugstore.com, $10)
30
Cetaphil Gentle
Skin Cleanser
Formulated for dermatologists, this tried-and-true, gentle, soap-free cleanser is great for all skin types, including sensitive skin! It won't clog your pores either, which we heart.
(drugstores nationwide, $5)
More beauty advice
5 Steps to brighter skin
The 8-step guide to clear skin
Best buys: Bad-hair-day hair accessories