Beauty On A Budget
Pish posh! Why waste your hard-earned money on pricey beauty products when you could easily hit up your local drugstore and score everything you need for far less? We dish on what's actually worth it at CVS, Walgreens, Rite Aid and more!
(page 3 of 5)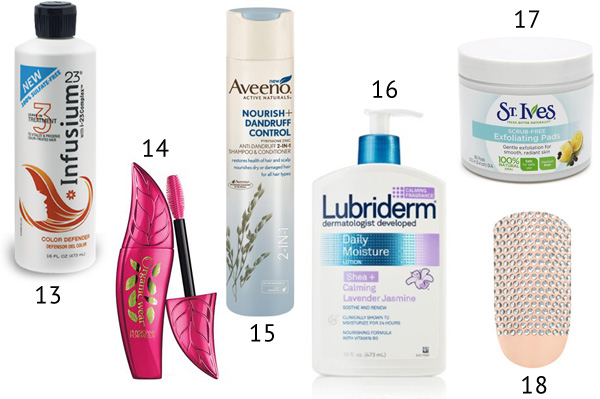 13
Infusium 23
Color Defender
Leave-In Treatment
Keep your locks looking as bright and shiny as the day you left the salon with this must-have, sulfate-free leave-in treatment that shields against color fade.
(drugstores nationwide, $7)
14
Physicians Formula Organic Wear 100% Natural Origin FakeOut Mascara
Get the full-on effect of falsies sans all the hassle! When you use this first ever mascara featuring 100 percent natural-origin lash extension fibers, your peepers are bound to look out of this world, guaranteed.
(drugstores nationwide, $10)
15
Aveeno Nourish + Dandruff Control Shampoo & Conditioner
Don't let dandruff put a damper on your day. Aveeno's new two-in-one shampoo and conditioner gets right to the root of the problem, nursing your hair and scalp back to health stat.
(drugstores nationwide, $8)
16
Lubriderm Daily Moisture Shea + Calming Lavender Jasmine Lotion
As if the alluring scent of this lotion wasn't enough to draw you in, the fact that it makes your skin feel heavenly and oh-so-hydrated is, well, just another added perk!
(drugstores nationwide, $7)
17
St. Ives Scrub-Free Exfoliating Pads
Want smoother, younger looking skin in only one week? Snatch up these easy to use, 100 percent natural AHA exfoliating pads and watch the dead skin disappear.
(Walgreens, $6)
18
Essie
Sleek Stick Stickers
From haute animal prints to bedazzled neutrals, you'll fall head over heels for every single nail sticker in this sophisticated yet fashion-forward collection.
(Target, $10)
Up next: More drugstore beauty buys >>