Beauty On A Budget
Pish posh! Why waste your hard-earned money on pricey beauty products when you could easily hit up your local drugstore and score everything you need for far less? We dish on what's actually worth it at CVS, Walgreens, Rite Aid and more!
(page 2 of 5)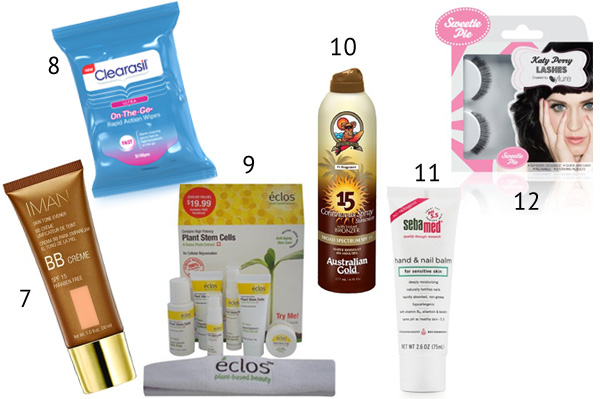 7
Iman Cosmetics Skin Tone Evener BB Crème SPF 15 
With the widest range of shades available in a BB crème for women of color, this beauty balm by Iman Cosmetics is clearly a no-brainer.
(Walgreens, $20)
8
Clearasil Ultra Rapid Action On-The-Go Wipes
Keep acne at bay even while you're on the run with these Rapid Action Wipes that fit perfectly in your handbag. As an added bonus, you can also use them to remove your makeup or as a toner after washing regularly for a continued salicylic acid treatment.
(drugstores nationwide, $5)
9
Éclos 6-Piece
Anti-Aging
Starter Kit
Have absolutely no idea where to begin with your skin care routine? Take all the guesswork out of staying young by picking up this inexpensive Anti-Aging Starter Kit from the nearest drugstore. Each product is made with rejuvenating apple stem cells, clinically proven to reduce wrinkles and enhance skin texture in two weeks!
(drugstores nationwide, $20)
10
Australian Gold Continuous Spray With Instant
Bronzer SPF 15
Stop shelling out a ton of cash for regular spray tans. Instead, simply spray this stuff on and score an instant glow before hitting the beach or pool. And it's formulated with SPF 30, so your skin will thank you later (trust us).
(Drugstore.com, $10)
11
SebaMed Hand
& Nail Balm
Infused with a variety of moisturizers, including coconut oil and vitamin B5, this awesome Hand and Nail Balm hydrates your skin and fortifies its acid mantle to maintain a healthy moisture level. Not to mention, allantoin and panthenol (vitamin B5) support skin regeneration, while keratin strengthens your nails. Woo-hoo!
(CVS, $13)
12
Katy Perry Lashes
by Eylure
Sure, you're pretty without any makeup on, but even the biggest stars need to glam it up sometimes, right? Katy Perry Lashes by Eylure will help you play up those peepers at an affordable price. Plus, they can be reused several times.
(CVS, $8)
Up next: More drugstore beauty buys >>