beauty goodies to share with baby
There used to be a time when skin care for adults didn't enter the play circle with baby skin care: The products were separate and different. But bonding with baby becomes even more fun now with mum + bub skin care. See why we love it.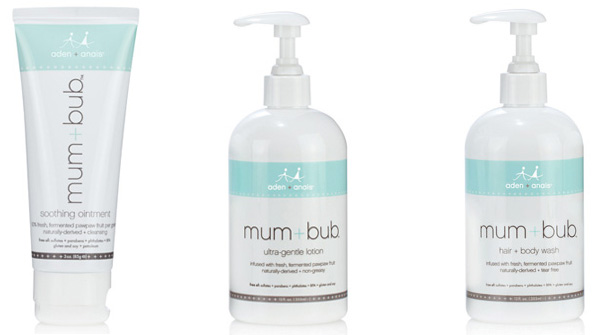 Why we love it:
Packaged in beautifully soothing blue and white tubs and pumps,
mum + bub skin care
by aden + anais offers you what most moms and expectant moms dream of: products that you can use and share with your baby. Gone are the days when you had to worry about whether the lotion was too strong for your baby or too harsh. All you need are a few products from this line that make bonding with baby so delicious and easy.
Products
mum + bub is a naturally-derived pawpaw fruit infused skin care line that's gentle enough for use for baby, but the entire premise (and packaging) was designed for the sophisticated mom. Formulated with the help of Ellen Gendler, M.D., a dermatologist in New York City, the line contains a soothing ointment, hair and body lotion and bath goodies.
Pawpaw has been known in Australia for decades as a fruit with great skin care benefits (it cleanses and heals skin when applied topically), and the proof is in the lotion. aden + anais has really produced a line that any woman would be glad to buy complete with an extremely gentle, effective and natural fragrance.
The Soothing Ointment ($16) is one of my personal favorites and has a lovely scent of freshly fermented pawpaw fruit. It can be used as a diaper ointment, to soothe nicks and cuts or to generally hydrate. It has a light vanilla scent and comes in a single tube or tub version, and if you apply it to your skin or lips, it simply melts and feels gooey in a good way without feeling slick. This was an aspect I really loved about the ointment: Many baby products including the standard Johnson's baby oil and jojoba baby oil end up feeling way too slick on the skin, and not in a good way. Sometimes, you need a thick, creamy consistency (the consistency of Vaseline) to really get the skin nice and soft, and this ointment does the trick. The ointment worked wonders for my baby's wind burned skin.
Another good product to try is the Ultra Gentle Lotion ($16), which is formulated with an Australian Sandalwood scent. It's non-greasy but boy, is it fragrant! The Sandalwood can be a little overwhelming — especially for a baby — so if you veer toward the side of products without fragrance, then this is not for you. However, the lotion is creamy and does a great job of hydrating tender skin. My baby felt so fresh and happy after using the lotion (she would cry when I used jojoba oil) and it did not seem to irritate her skin at all, nor did it make it red or tender.
The ointment also is a multitasking wonder, doing everything from healing nicks, cuts, scrapes and also acting as a diaper rash treatment. Who knew that pawpaw could be so magical? For more products (including a hair and body wash), visit the site.
If you're a new mom, you can use the products too... my 7-month-old daughter responded beautifully to this line. As always, with anything involving your baby, check with your pediatrician first before use.
More beauty reads
6 Makeup tools you need
Baby products that double as beauty products for mom
The 5-minute face