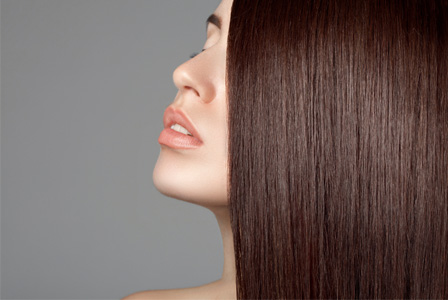 If your hair looks a little down-and-out, it might be time to ask your stylist about options for revival. One quick, inexpensive route is the gloss treatment.
Gorgeous gloss
What is it?
A gloss treatment, also referred to as a color glaze or a glaze treatment, gives your hair shine, boosts dull and lifeless hair and helps smooth flyaways.
Gloss treatments can be clear or tinted. Both types of treatments revitalize hair; tinted treatments can help enhance or maintain color, as well. Tinted options range from brighter blonde (to cancel out brassiness) and gold (to bring out warmth in your strands) to red or brown hues (to bring out the warmth in darker shades of hair).
While gloss treatments aren't an alternative to color, they do help enhance and refresh your current color, bring out subtleties and can be a good introduction to hair color for someone with virgin (aka never-been-colored) hair.
Why should I get one?
Gloss treatments are great conditioning tools, so if your locks are dry and lifeless, ask your stylist about their gloss options to bring back your moisture and shine.
If you regularly color or highlight your hair, gloss treatments can give you an added boost between colors. Blondes are especially prone to flyaways and damage, so gloss treatments also help smooth and strengthen you lighter-haired ladies.
How long does it last? What's it cost?
Gloss treatments are demi-permanent, which means they last about four to six weeks before washing/fading out. You could get them every six weeks or so with your regular trim and be just fine.
Gloss treatments usually run around $20-30 but, of course, every salon is different.
So whether you're on a much-needed journey from damaged to healthy hair or just need a little boost, talk to your stylist about the gloss treatment options.
Discover more hair tips
Hairstyles successful women wear
Fun bun hairstyles
Girly hairstyles for day and night