Black
Black was the color of the night with everyone from J.Lo, Carrie Underwood, Faith Hill, Carly Rae Jepsen and Kelly Rowland wearing anything but basic black. They all took that classic black look and put their own spin on it. J.Lo was channeling her inner Angelina Jolie with a thigh high slit, while Carly opted for a black shimmer. Carrie Underwood went for a lace pattern overlay while Kelly Rowland's black gown was all about the cutouts.
White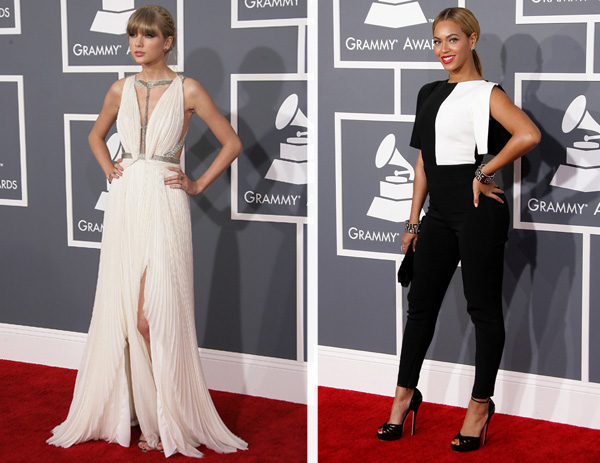 Taylor Swift glowed in a white gown, giving her an almost angelic look. Beyonce looked beautiful and comfortable in her black and white jumpsuit with her hair in a sleek ponytail. Coming off last week's Super Bowl performance, Beyonce opted for a more casual red carpet look. (She probably needed a little break from all that glam and glitz.)
Red
Rihanna, Adele and Natasha Bedingfield all put on red to turn heads and drop jaws. Rihanna looked her best ever with feminine hair, a gorgeous gown and complementary red lips. Red has been a staple on the red carpet this year and stars who really want to stand out always know that red is the way to go.
A few fashion fails
A lot of thought goes into getting dressed for an awards show — time, energy, preparation. But that being said, Florence Welch looked like she got the wrong invitation and dressed like a dinosaur for a Halloween party! The guys don't get off that easy, either. John Mayer was trying to make a statement in his bright purple velvet blazer and bow tie, but he probably should have stuck to a classic black or navy.
Thank you for giving us a night of fashion, fun and fabulousness. Now rest up for the Oscars!
More from Anya
10 Style secrets I've used on the red carpet
What every woman needs in her beauty bag
An organized closet means...
Photo credit: Adriana M. Barraza/WENN.com