Roll out
After a long day of traveling, the last thing you want to do is haul around a heavy laptop on your shoulder. This bright green rolling laptop bag (Target, $155) lets you carry your laptop, work and other important traveling essentials with an option! Do you want to roll today? Or maybe it's more of a rock-it-on-your-shoulder kind of day. No matter which you decide, you'll always be prepared and secured with a subtle front lock.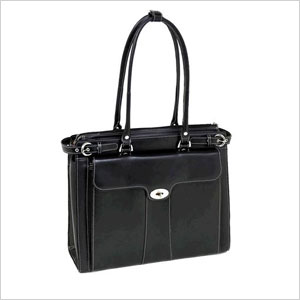 The classic, on lockdown
Hey, jetsetter! This timeless black bag (Overstock, $20) could match any outfit fabulously, but more importantly, it offers a padded laptop compartment to keep your computer damage free. Store files, media devices, pens and business cards in their own compartments, too. The lock on the outside is controlled by a separate key, so be sure to keep it on your key chain at all times.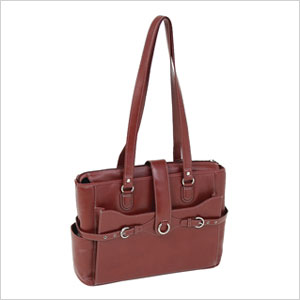 Big red
Carry your cell phone, laptop and other devices in this all-in-one laptop case (Travel Bags Mall, $270) that closely resembles a purse, and keep them all locked up. Heck, you could probably carry it on your off days, too! The stylish red oiled leather provides durability while that long handle allows you to attach the bag to other rolling luggage in a snap.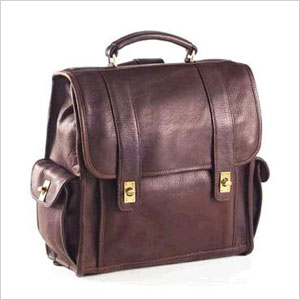 Back-top
Think back to your heavy backpacks in grade school. Although you were a mere 50 pounds back then, you managed to carry a ton of weight! "Packpacks" are back in style, and this ultra-chic leather version (Wayfair, $182) is a durable option for the traveler who needs to carry more than just a laptop. Turn locks offer extra protection while ultra-soft, perfectly worn leather provides a fashionable look for the bohemian babe at heart.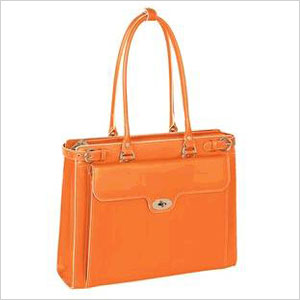 A punch of color
Hey, sunshine! Who says you can only have a laptop bag in black or brown to look professional? This orange structured bag (IdeaStage, $108) skips the drab colors for borderline neon fun. Its box-style casing prevents the bag from tipping over (especially on dirty airport floors) and provides an extra side compartment for pens, paper, files and more.
Other ways to travel in style
4 Fashionable weekend travel bags you need now
Travel-friendly beauty products
Travel in style: Colorful luggage we're loving