The ID case
Hey, you know what else is sized like an ID? A certain little piece of plastic that's the key between you and that new pair of boots. The ID case is small enough to fit in a pocket and secure enough to ensure your cards don't fall out. Carry your ID, debit and credit cards with ease in this pretty striped Coach version (Macy's, $32). Your old wallet can keep the change.
The sturdy wallet
If you're a professional shopper, you need a wallet that can take a beating. Cheap wallets deteriorate over time, busting at the seams at inopportune moments. A sturdy leather or vegan leather wallet, like this timeless number (Fossil, $85) can make its way out of a zippered purse time and time again completely unscathed. The price tag of these types of wallets might seem hefty up front, but if you purchase a classic style, it's bound to be your go-to credit keeper for years to come.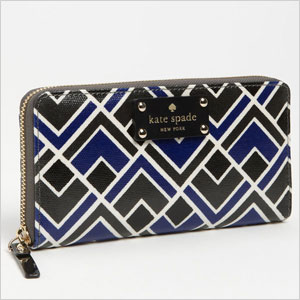 The zip top
Open up this zip-top wallet by Kate Spade (Nordstrom, $158) and you'll find dozens of places for credit cards, debit cards and IDs. While it still has a space for cash, the zip-top wallet stays streamlined and skinny, perfect for fitting in small and thin purses. Plus, this one is cute enough to carry on its own!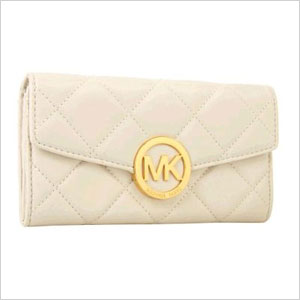 The carryall clutch
Small enough to be demure but big enough to fit your lip gloss and mascara, the carryall clutch doesn't need to be shoved in a bag. It's a bag all on its own! Keep your plastic in the specialized slots, ensuring your credit cards are secure while you party the night away with this adorable quilted bag from Michael Kors. (Zappos, $158)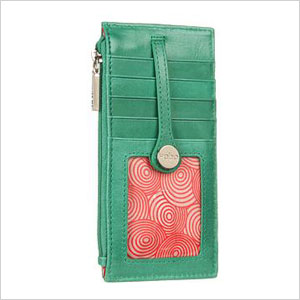 The slide wallet
You're not the kind of girl who needs her purse as a security blanket. You feel free enough to walk around empty handed. But hey, even freewheeling chicks need to carry money. The slide wallet is the perfect in-between option for girls who don't want to carry a purse, but don't want to carry a bulky men's wallet in their skinny jeans. This long, thin wallet can be worn on your wrist or placed in a pocket without adding extra padding to your pants. This turquoise version (Zappos, $64) is the perfect compromise between fashion and function.
Other ways to carry your credit cards
One bag, three ways
Ditch the diaper bag: 5 fabulous bags for moms of toddlers
5 Fabulous fall handbags under $100