The new spring 2013 color collection by Chanel is called Printemps Precieux de Chanel, which celebrates Gabrielle Chanel's ideal of simplicity and sophistication. It's about elegance and contrasts, with an emphasis on the eyes and nails.
Aptly named for the precious beauty of spring and created by Peter Philips, the Printemps Precieux de Chanel collection is all about precious pinks, plums and a flawless and radiant complexion. The shades are vibrant for both lip and nail care, and there's a new makeup palette in town with the classic Chanel logo.
The collection
Here's what you get in the collection:
POUDRE SIGNEE DE CHANEL Illuminating Powder ($68)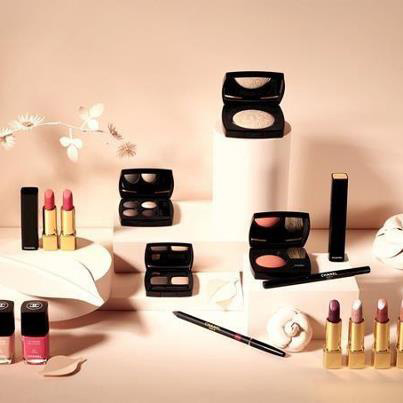 This limited edition powder has the unmistakable Chanel emblems and creates a naturally luminous effect on your skin in two ways: apply on cheekbones, or all over for a natural radiance.
LES 4 OMBRES Quadra Eye Shadow ($59)
This palette is a mocha latte wonder, with refined beiges and velvety browns for a mesmerizing eye look that's not overdone. We love the shadows when applied wet.
STYLO YEUX WATERPROOF Long-Lasting Eyeliner ($30)
Skip your traditional black liner in favor of these new soft shades for spring including soft brown, vibrant lilac and rosy beige.
JOUES CONTRASTE Powder Blush ($43)
Unlike your traditional pinks and corals, this is a rich and ripe apricot shade that makes your cheeks look refined and softly sculpted. Use sparingly.
ROUGE ALLURE Luminous Intense Lip Colour ($34)
The new shades for spring include copper brown, soft rose and fresh peach, which are soft and radiant. You can choose to skip the pure reds this season and go for these.
LE VERNIS Nail Colour ($27)
The most on trend colors this season are classic pink, haute brown and impassioned pink-red.
Our verdict
The powder and nail lacquers are the most interesting of all the collection, and if you were going to get any of these products, these would be the first I'd spring for. In particular, the classic pink is a great 'nude' way to show off your nails. The Rouge Allure in fresh peach seems to be the "it" color of the season, and it's really matte as well and will keep your lips nice and hydrated. Again, this would be my personal pick for the iconic color of the season.
Many of the nail lacquer shades will seem like a repeat to those who were fans of the Harmony Spring 2012 season, which were peppered with pinks and corals too, so you may feel that the nail lacquers — at any rate — are a bit of a repeat. But the matte lipsticks definitely are not, nor is the powder, so these are unique to spring 2013.
These gorgeous goodies are available in fine department stores nationwide now and online at Chanel.com.
More beauty reads
MAC Office Hours collection
M Steves rose hip seed oil review
Miss America's beauty secrets