As the new Chief Stylist at ShoeDazzle, Rachel Zoe has her hands, or should I say feet, full.
"I'm super excited," said Zoe of the venture, where she'll be customizing style plans for lucky shoppers. "I think this is about being very on trend, but always with hints of glamour. That's why we partnered because we live by the same mantra, being glamorous every day."
The glamour was certainly showing through when we visited Zoe at ShoeDazzle's headquarters in Santa Monica, where rows and rows of glittered, studded and sequined pumps lined the walls.
So what are the must-have shoes right now? Check out Zoe's picks!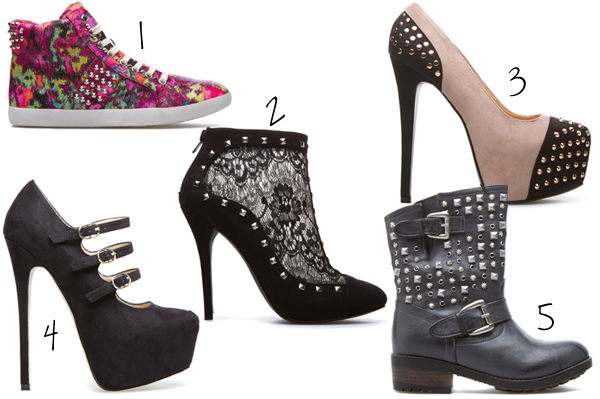 "For certain people, [this moment's must-have] is the sneaker, that trendy new, fashion-forward sneaker. Yes, I am in fact saying that."
"It's everything. I like to say that the ankle boot is the new answer to the pump. More and more, I'm putting an ankle boot with a cocktail dress or a leather skirt."
"Platforms are just getting higher."
"Studs are here to stay. Metallics, strappy sandals, it's a love of glamour and glitz."
"The biker boot is here to stay. I'm seeing it with maxi skirts, with leggings, with oversized chunky sweaters and cardigans."
Toe tip
When matching a shoe with your outfit, either match the color exactly or go with a staple color. "If you have a red dress and you wear a shoe that is exactly the same color, then that's OK. But if not, then go with black, nude, silver or gold metallic. Don't clash with it because if you just miss, it's completely off."
Along with heading up ShoeDazzle's spring/summer style, Zoe is gearing up for her show at New York Fashion Week, and she tells us it's sure to surprise.
"It's going to be different than my last collections," said Zoe. "It's going to be classic, but a bit edgier."
We're looking forward to it! Check out Rachel's shoe selections on ShoeDazzle.com and stay tuned for the fifth season of The Rachel Zoe Project, starting March 6 on Bravo.
Get Whitney's look
More fashion trends
Date night style for every relationship stage
50 Shades of red: Roundup of 50 red beauty and style picks
Maria Menounos shares her red-carpet beauty essential
Photo credit: Daniel Tanner/WENN.com