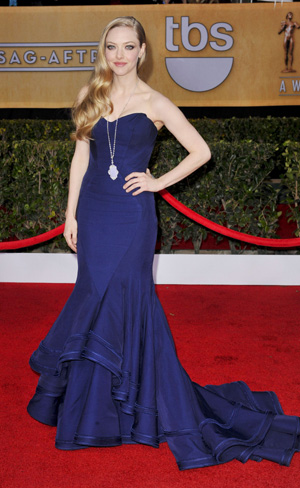 Navy is the new black
Most frequently seen on the SAG red carpet, navy was the go-to color at this awards show. Stars such as Jennifer Lawrence, Amanda Seyfried, Nicole Kidman, Busy Philipps, Edie Falco, Jessica Lange and Carmen Electra all donned navy gowns at the SAG awards. Navy is rich, classic and sleek without just being your basic black.
What this means for you: Navy is just as slimming as black and is a color that should be all over your closet. Navy can be paired with bright pops of color for spring, cream and gold for summer, emerald green for fall and silver for winter — it is truly the color for all seasons.
Photo credit: Apega/WENN.com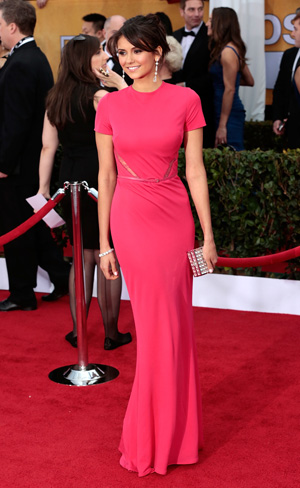 Pretty in pink
Starlets Nina Dobrev, Lea Michele and Freida Pinto made a statement as they stepped out in this feminine color. Pretty yet powerful, pink served as the color to wow in and turn heads on the carpet. Red isn't the only bright color to make you pop on the carpet — pink is a strong, standout color.
What this means for you: Don't be afraid of pink — there is a hue that's right for you. If you're someone who doesn't gravitate toward pink, start small with a pink accessory like a scarf or a clutch. Pink instantly makes a statement while keeping things feminine.
Photo credit: Brian To/WENN.com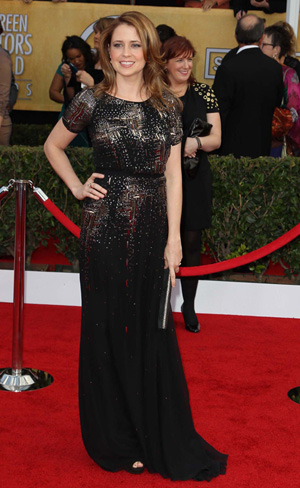 It's all about the sheer
Stars such as Anne Hathaway, Jenna Fischer, Naya Rivera and Jenna Elfman were seen rocking this spin on black. Mixing black with sheer elements creates a fashion forward fix that reinvents a traditional trend. This accent on a timeless fashion puts a twist on the basics and creates instant glam on the red carpet.
What this means for you: You can mix black and sheer with everything from a tank top to a blouse to a cocktail dress. This trend is easy to incorporate into your everyday wardrobe to give you the style of the stars.
Photo credit: FayesVision/WENN.com
Ladies in red
Jessica Chastain, Idina Menzel and Kaley Cuoco were among those rockin' red on the carpet. Red will always be a staple at awards shows, but this season it has been seen in full force — expect to see it in a big way at the Oscars! Stars choose red because it is the color that stands out the most, photographs the best and instantly grabs people's attention.
What this means for you: Make sure there is a touch of red in your closet, whether it's a blazer, purse or a pair of shoes. Just one piece goes a long way to make you stand out.
Photo credit: FayesVision/WENN.com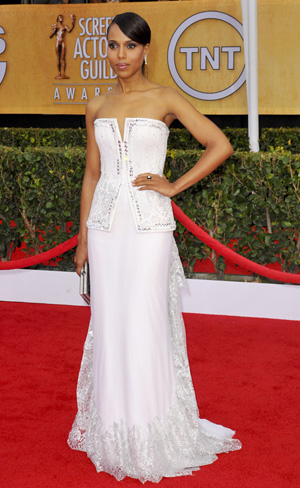 White hot
Who says you need to be a bride to wear a gorgeous white gown? This award show trend is NOT going anywhere. Kerry Washington, Naomi Watts, Sofia Vergara, Julianne Moore and Jayma Mays were among the stars that opted to stick with the season and wear their winter white. The contrast of white on the red carpet really makes a statement and is a bold fashion choice that can create a flawless look.
What this means for you: Incorporate white into your wardrobe by pairing a crisp white blouse with white trousers or a white blazer with white jeans. White can actually be slimming when worn monochromatically.
Photo credit: Apega/WENN.com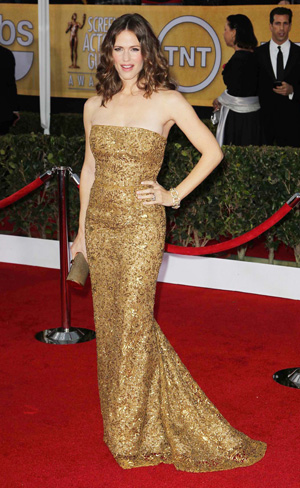 Stunning in strapless
The biggest takeaway trend from the SAG Awards was the strapless gown. No matter what the color, cutout or embellishment, strapless was the style du jour. Always a great style for showing off a fabulous necklace, sexy collar bones and bare shoulders, a strapless dress is a classic choice that photographs beautifully.
What this means for you: When picking a dress to wear to any event you may have, pick a winning strapless look. If you don't like to show off your arms, try a cropped jacket or shrug over this sexy style.
Photo credit: FayesVision/WENN.com
As seen on the 2013 SAG red carpet, stars are keeping it classic and mixing it up with the latest trends. Can't wait until the next one to see what the celebs have in store for us then!
More fashion tips from Anya
Anya Says: Secrets from a beauty product junkie
Anya says: What red carpet trends at the Golden Globes mean for you
Anya says: An organized closet means...