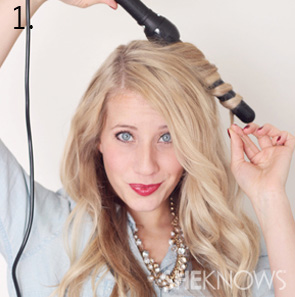 Curl your hair with a curling iron. We don't care so much about the curls here as we do the texture the curls create. Once your hair is curled, tease the roots just a bit to add some volume.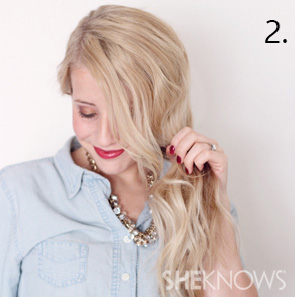 Pull all your hair to one side. Either side works — whichever looks best on you.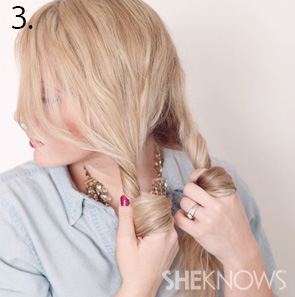 Split your hair into two sections and twist both sections of hair toward each other with your fingers.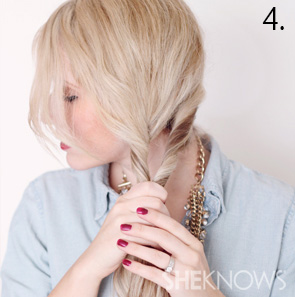 Place the two sections of hair you've just rolled into your non-dominant hand.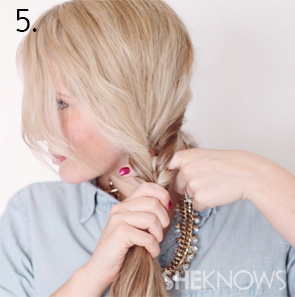 Take the pointer finger of your dominant hand and wiggle it through the two sections of rolled hair. The pointer finger works easiest for most ladies.
6
Split, wiggle and twist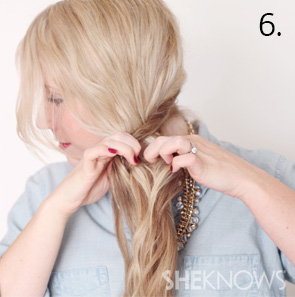 Use that pointer finger as the guide to split the hair into two new sections. Repeat these steps until you get to the end of your hair. Now, split, wiggle and twist!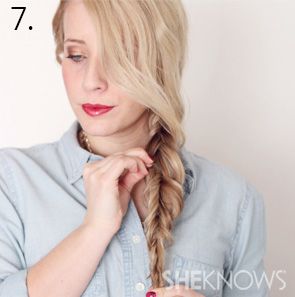 This is the step where the magic happens. You're going to tug and loosen those strands of hair with your dominant hand while you're holding the ends of your braid with your non-dominant hand. This is where you will pull your own creativity into the style. The shape of your braid is completely up to you depending on how and where you tug on the pieces of your braid. Just keep in mind — the more you tug on your braid, the thicker it will be — but the faster it will fall out.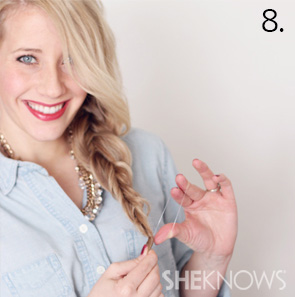 Tie off your braid with a clear elastic.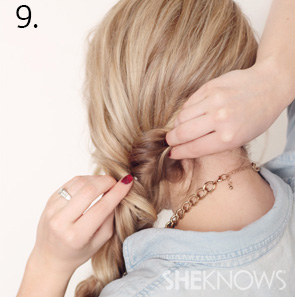 This step is completely optional. If you end up pulling out too many pieces and your braid starts looking too loose near the nape of your neck, you can grab a small section of hair from the front and a small section of hair from the back, as shown in the picture.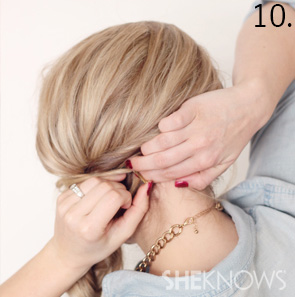 You're then going to fold those two sections into each other and secure the strands with a bobby pin. Again, the last two steps are optional!
The final look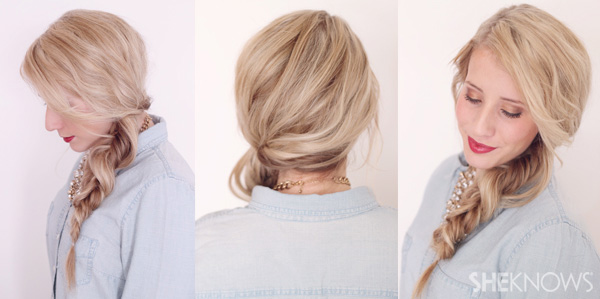 If these steps are a little bit confusing, have no fear — you can watch Abby's video tutorial here. Check out more of her styles from her blog, Twist Me Pretty.
More hair how-tos
How to find a great hairstylist
How to talk to your hairstylist
How to create a braided headband