Skin saviors
Finding the perfect facial moisturizer is like finding your perfect guy: It takes a lot of trial and error. Lucky for you, we've done the dirty work and are happy to present your perfect match. Whether your skin is oily, dry or normal, these babies are sure to become your new moisturizing mainstays.
Moisturizer for oily skin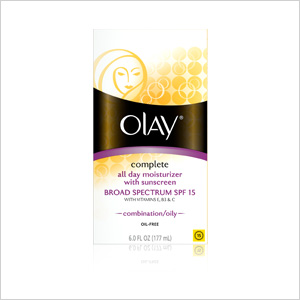 Olay Complete All Day Moisturizer with Sunscreen Combination/Oily Skin
SPF 15? Check! Long-lasting, oil-free hydration? Make that a double check. This moisturizing maven creates a healthy-looking base and feel to your skin and protects against skin-damaging UV rays. (olay.com, $8)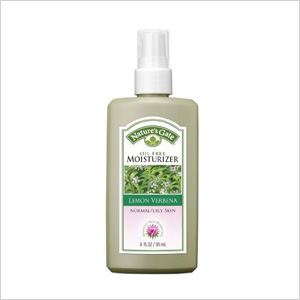 Nature's Gate Oil Free Lemon Verbena Moisturizer
We're suckers for a fast-absorbing lotion — after all, what gal has the time to wait for her moisturizer to take its dear sweet time to sink in? — and we're loving this oil-free one from Nature's Gate. Lemon verbena and other plant-based ingredients instantly soften and tone skin, reduce shine and hide enlarged pores. Quite the multitasker, no? (natures-gate.com, $15)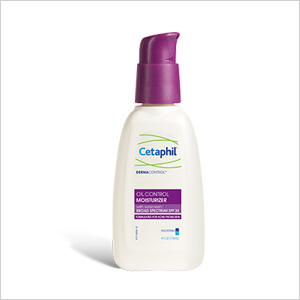 Cetaphil DERMACONTROL Oil Control Moisturizer
Acne-prone skin rejoice! This moisturizer — which can be used in conjunction with any other prescription treatments you're using — provides SPF 30 sun protection without that nasty, greasy feel, and controls the oil and shine we all hate. (CVS, $18)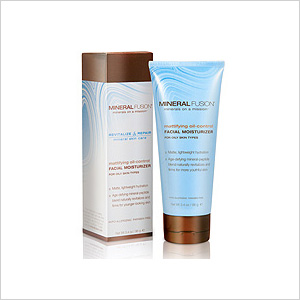 Mineral Fusion Mattifying Oil Control Facial Moisturizer
You're never too young to start preventing skin's inevitable aging, and this lightweight moisturizer does just that with its anti-wrinkle peptides. That's not all, though, folks. It also controls excess oil and leaves skin shine-free and perfectly matte.  (mineralfusion.com, $19) 
Moisturizer for dry skin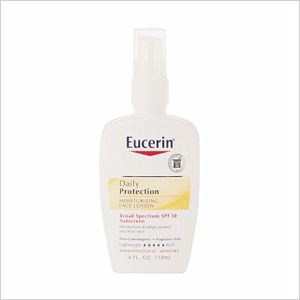 Eucerin Daily Protection Moisturizing Face Lotion
Both UVA and UVB sunscreens make up this SPF 30 formula that helps defend against long-term sun damage. But it's not only a sun-fighter — no, this baby moisturizes for 24 hours and absorbs quickly. (target, $7)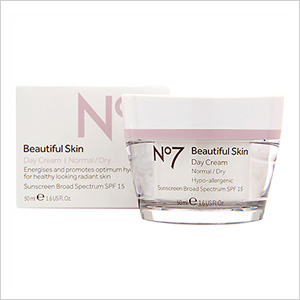 Boots No 7 Beautiful Skin Day Cream for Dry Skin
This gem of a day cream instantly hydrates and soothes skin, providing continuous 24-hour hydration and SPF 15 to protect skin from premature skin aging. Now that's something we can get behind. (shopbootsusa.com, $14)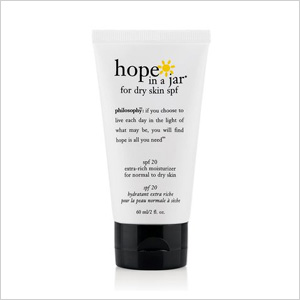 philosophy hope in a jar extra-rich moisturizer for normal to dry skin
This multitasking creamy daily moisturizer improves skin's natural moisture balance, soothes, and deeply hydrates, all while protecting skin against environmental attack. (philosophy.com, $40)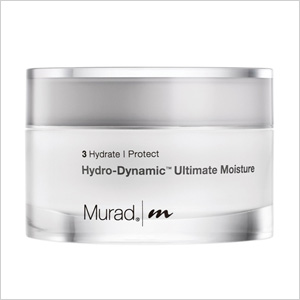 Murad Hydro-Dynamic Ultimate Moisture
Gentle enough for sensitive skin, this hydrating moisturizer boasts a non-greasy, velvety formula that provides all-day moisture and comfort. (murad.com, $65)
Moisturizer for normal skin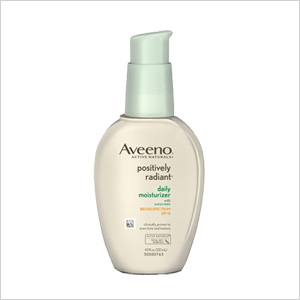 Aveeno POSITIVELY RADIANT Daily Moisturizer
This SPF 15 moisturizer features a total soy complex and natural light diffusers that naturally even out your skin tone. Even better? It immediately reflects light to help bring out your skin's inner radiance. (ulta, $14)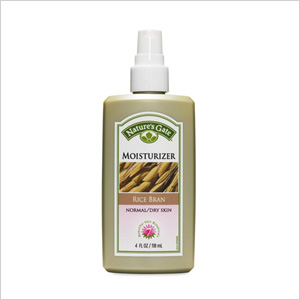 Nature's Gate Rice Bran Moisturizer
This moisture-rich lotion softens and hydrates skin with vitamin-rich plant-based ingredients, leaving normal skin soft to the touch. Even better? This little miracle worker helps lift and smooth skin, diminishing the appearance of fine lines and wrinkles. (natures-gate.com, $15)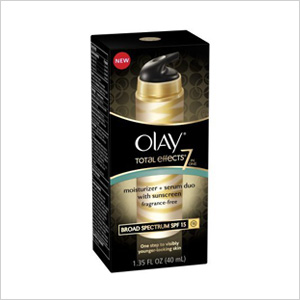 Olay Total Effects 7-in-1 Anti-Aging Moisturizer
Olay's new Total Effects Moisturizer + Serum Duo immediately firms and improves the texture and tone of skin, while intensely moisturizing. The end result? Visibly firmer, suppler skin in less time.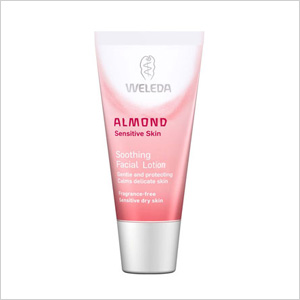 Weleda Almond Soothing Facial Lotion
Just because your skin isn't oily or dry doesn't mean it doesn't need some TLC. This gentle, lightweight lotion helps restore skin's moisture balance with organic sweet almond oil and soothes redness and inflammation. This 100 percent natural goodie is perfect to use day or night! (weleda.com, $25)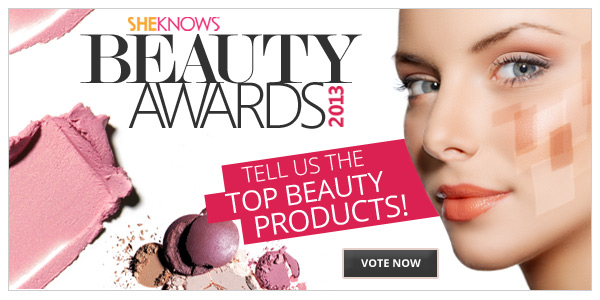 More beauty awards
Hair styling saviors: 4 Fantastic products
Au naturel: 4 Standout natural skin care brands
Champion blemish concealers: 4 Winning brands