Trends to keep
It's all about the sleeves
Stars such as Jennifer Lopez, Nicole Richie, Kate Hudson, Adele, Naomi Watts and Eva Longoria all wore sleeved gowns at the Golden Globes. It was rare to see so many sleeves on such a skin-bearing carpet, but this long sleeve trend was done right when sleeves had sheer lace accents, embellishments and low necklines.
What this means for you: This is great news for everyone out there who loves to cover their arms. To wear the sleeve trend right, your dress has to be sleek and should have something going on such as a lace or embellished trim.
Photo credits: Apega/WENN.com, WENN.com, WENN.com
Winter white, nude and blush
Forget about black or candy colored gowns. White, nude and blush stole the show as tons of stars kept it neutral and donned this lighter look. Anne Hathaway, Amy Adams, Amanda Seyfried, Helen Hunt, Megan Fox, Amy Adams, Francesca Eastwood and Lea Michele were among the many starlets seen living on the lighter side.
What this means for you: Don't be afraid to wear your winter white, nude or blush. To avoid looking washed out, be sure to put some color in your lips.
Photo credits: Apega/WENN.com, Apega/WENN.com, Apega/WENN.com
Red hot
Red is always a popular choice on the red carpet because it makes you pop and looks great in photographs. But last night's reds were on a whole other level. Jennifer Lawrence, Claire Danes, Marion Cotillard and Zooey Deschanel chose a bright red with a more orange undertone and minimal accessories. By choosing dresses with orange undertones and simple accessories, it really made their look all about the color.
What this means for you: No matter where you're going, whether to a high school reunion, an important meeting or anywhere you want to make an impression, go for the red.
Photo credits: Apega/WENN.com, WENN.com, Apega/WENN.com
Mermaid maven
With every red carpet, there's always a silhouette that stands above the rest. Last night's silhouette to beat was the mermaid, which stars like Hayden Panettiere, Taylor Swift and Jessica Alba stepped out in. This silhouette, with its fitted bodice and flared out bottom, shows off your curves while staying on trend.
What this means for you: The mermaid style is here to stay. If a mermaid gown is too much for you, try a mermaid style skirt paired with a blouse or top to stay on trend.
Photo credits: WENN.com, WENN.com, Apega/WENN.com
Trends to leave
Unfortunately not everything was pure perfection last night. There were a few style trends that could have stayed at home.
Too much volume
No one needs extra fabric getting in the way of their super sleek look. Lucy Liu, Julianne Hough, Debra Messing and Julia Louis-Dreyfus got a little carried away with the volume and could have opted for a sleeker, more streamlined walk down the carpet.
What this means for you: Learn a lesson and always opt for the sleek over the volume every day of the week. Less volume is always more slimming.
Photo credits: Daniel Tanner/WENN.com, Apega/WENN.com, Apega/WENN.com
Edwardian high neckline
Rumer Willis and Kristen Bell opted for high Edwardian-like collared gowns but didn't really do themselves any favors by covering up so much. This vintage look is best kept in the archives and not on the carpet. Not only does a high neckline keep you from wearing fabulous jewelry, but it also detracts from your face and can make you appear older.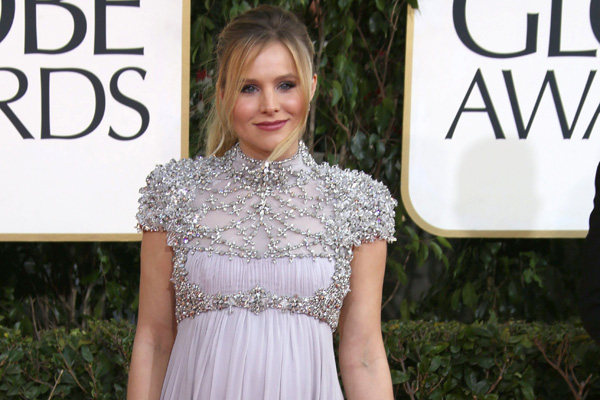 What this means for you: Showing off the chest, collarbone and neck can be the most flattering way to shine. By picking a low V or scoop neck, you will appear thinner. No one wants to look like they are stuck in Edwardian times.
Photo credit: WENN.com
Now that we've officially kicked off award season with the Globes, we can't wait to see you at the next one!
More from Anya
10 Style secrets I've used on the red carpet
What every woman needs in her beauty bag
An organized closet means...