Make Your
Routine Easy!
Don't you hate it when you're in the shower, ready to shave and get on with your day, and you find you're out of shaving cream? We've got an easy, two-ingredient DIY solution, perfect any time!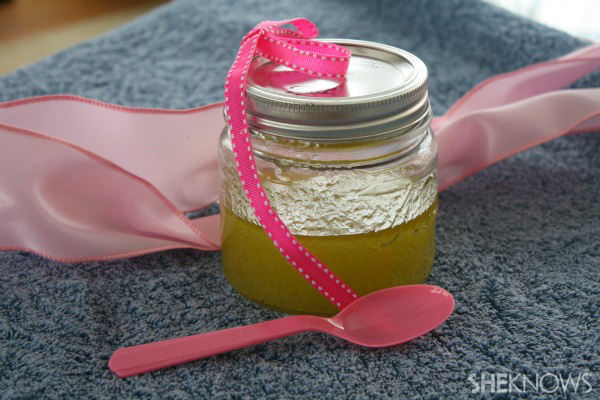 Shaving is one of those things most of us face. And when we do, we definitely want to use something that not only makes the process go smoothly, so to speak, but that is also kind to our skin after the fact.
You can easily make your own shaving gel at home with just two (maybe three) ingredients! Olive oil is great in the kitchen, but it's also wonderful as a moisturizer on your skin, too. You've likely used aloe vera gel on your skin after unintentionally getting a bit too much sun or on a minor skin irritation. Vitamins C and E in aloe vera are also great moisturizers for the skin. Combined, olive oil and pure aloe vera gel will set you on your way to smooth skin!
DIY moisturizing shaving gel
Supplies:
Olive oil
Pure aloe vera gel
Optional: essential oil for fragrance

Instructions:
Combine one part olive oil with three parts pure aloe vera gel (for example, 1 cup olive oil, 3 cups aloe vera gel). Mix well and add several drops of your favorite essential oil for fragrance if you'd like. Mix well and store in a container.
Consider storing the shaving gel in an unbreakable container, especially if you'll keep it in your shower. A squeeze container might be a good option, so you can simply squeeze the gel out of the bottle into your hand or on your legs. If you're not using a squeeze container, keep a plastic spoon with the shave gel to scoop it out of the container if it has a wide opening.
Use in the shower or bath, and make sure your skin is damp or wet first. Stir to combine the ingredients, as they may separate slightly, or shake to mix in your unbreakable container. Apply a thin layer of the gel to the area to be shaved, and shave as normal.
Our favorite products
If you're looking for a great shave from a shaving cream or gel you can buy, we are loving the following products right now:
More DIY beauty solutions
DIY peppermint lip balm
DIY cranberry anti-aging mask
3 Pumpkin beauty products to buy and 1 you can make