Yep girls, you heard that right! Selena Gomez is the latest star to partner with the powerhouse nail polish brand for her Nicole by OPI collection. Featuring 14 new nail lacquers, the line includes shades meant to capture Selena's "sweet yet spunky personality."
"[Selena] has that classic 'girl-next-door' appeal, but she's also edgy and fun — just like the Nicole consumer."
"Selena is an ideal partner for Nicole by OPI. Millions of fans love her for the same reasons we do; she's smart, talented, funny — and has an incredible sense of style," says Suzi Weiss-Fischmann, Nicole by OPI Executive VP & Artistic Director. "She has that classic 'girl-next-door' appeal, but she's also edgy and fun — just like the Nicole consumer.
"Selena is not only a chart-topping singer and actress, she's also a clothing designer and an active philanthropist," adds Weiss-Fischmann. "Like women around the globe, Selena has many interests and passions. This collection, with its diverse range of hues, offers a perfect match for every occasion!"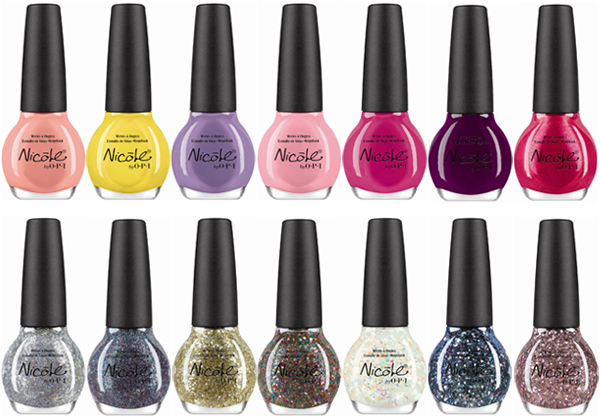 We break down the collection!
Our faves? Spring Break is the perfect versatile pink for parties, vacations and work; Hit the Lights is the total girl in control shade that we're crushing on; and Inner Sparkle always makes us smile when we look at it.
So what kinds of shades can you expect to see? Let's get started! The Selena Gomez Collection includes: Stars at Night, a confetti-filled silver; Mi Fantasia, a purple-aqua glitter; Kissed at Midnight, a romantic gold glitter; Confetti Fun, a shade that looks exactly like it sounds; Heavenly Angel, an iridescent confetti; Sweet Dreams, a lovely violet-teal; Inner Sparkle, a light pink glitter; Selena, a fresh peach; Hit the Lights, a not-so-mellow yellow; Love Song, a powerful purple; Naturally, a pale pink; Spring Break, our dream hot pink; Pretty in Plum, a deep and gorgeous purple; and Scarlett, a shimmery red-violet.
Where to buy
The Selena Gomez Collection will be available this month for $8 each at retailers including select Target, Walmart, CVS, K-mart, Rite Aid, ULTA, Sears, Meijer, Fred Meyer, Kroger and H-E-B locations.
More OPI launches
OPI releasing Spider-Man collection
OPI releasing New York City Ballet collection
OPI releasing Minnie Mouse collection
Photo credit: WENN