Andy Warhol is NARS Cosmetics' largest collection (and collaboration) to date. From the Silver Factory Gift Sets to the Color Collection, the options for gift getting are rich, edgy and numerous.
Andy Warhol Color Collection
The collection includes the following:

Nail Lacquer ($18) in shades Back Room (black), New York Dolls (purple), Superstar (teal), 15 minutes (lemon yellow) and TV Party (orange)
47th Street Larger than Life Long-Wear Eyeliner ($23) which is black with a silver shimmer
Soft Touch Shadow Pencil ($24)
Larger Than Life Lip Gloss ($26) in Holly Woodlawn (bright orange-red), Candy Says (shimmering strawberry pink), International Velvet (pink glacé), Penny Arcade (raspberry), Viva (rich rose)
Satellite of Love Highlighting Blush ($28) in Sparkling Gold Sand
The nail lacquers are truly Warhol bright shades that offer a glossy texture and are easy to use. They're ideal gifts for the color-obsessed friend or relative. The Highlighting Blush, too, is remarkably light and subtly glowing and ideal for the holiday season. One of my favorites from this collection is the lip gloss, which is subtly bright for the holidays and is quite hydrating to boot.
The absolute genius of the names (for instance, Holly Woodlawn, which is a nod to the eponymous Puerto-Rican born actress and Warhol superstar who appeared in his movies) will make this collection an ideal holiday gift. And did we mention that the packaging is too cute NOT to collect? The Color Collection is available at Sephora and online at NARSCosmetics.com
Silver Factory
Chances are, you've already stocked up on the Silver Factory collection from the brand, and seriously, who wouldn't? These limited collection offerings pay homage to the genius of Warhol and are beautifully packaged to illustrate the image-rich creations and coolness of the artist.
The Silver Factory collection is definitely a luxury gift ($200) but includes a silver deluxe cosmetics bag that contains: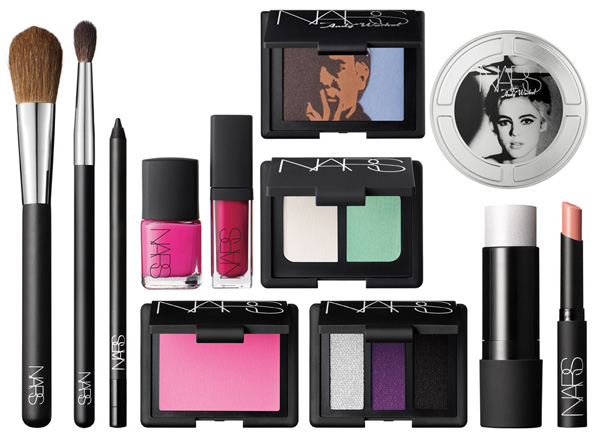 Blush Brush N°8
Domed Eyeshadow Brush N°13
Via Veneto Larger Than Life Long-Wear Eyeliner
Desire Blush
Shadows Trio Eyeshadow
Silver Factory Multiple
Chelsea Girls Pure Matte Lipstick
If you can't splurge on this, there are other gift sets which have the elegant imagery Warhol is loved for, including the Edie Gift Set ($75) which includes an authentic 16 millimeter film canister containing Film Star Pure Matte Lipstick, Carpates Eyeliner Stylo and Deep Throat/Amour mini Blush Duo/Edie Eyeshadow.
My favorite from the Silver Factory offerings is the cheeky "Self Portrait" Eye Shadow Palette ($55), which features variations of the 1967 painting. It also features Warhol quotes on the mirrors and is sheer genius.
More beauty reads
Amorepacific Luminous Effect brightening serum
MAC Office Hours and Marilyn Monroe collection
L'Oreal Youth Code BB cream