Kristen Stewart Wears
Zuhair Murad
Kristen Stewart showed off her Zuhair Murad-clad assets at the premiere of The Twilight Saga: Breaking Dawn — Part 2 on Monday night.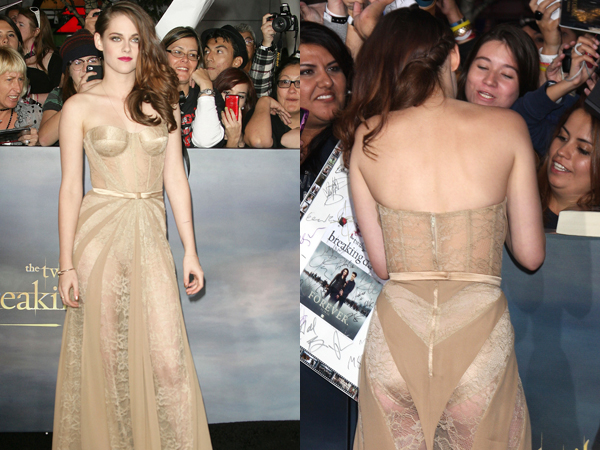 All eyes were on Kristen Stewart at the premiere of The Twilight Saga: Breaking Dawn — Part 2 last night — but it wasn't only because of her arm-in-arm with on-again boyfriend Robert Pattinson. Basically, all we could look at was KStew's sexy — and see-through — Zuhair Murad lace gown.
Our take? It looked amazing from the front, but the back definitely showed her high-waisted undergarments. The jury is still out on whether it's sexy or tacky, though Stewart loved it.
"I like this thing," she told reporters, according to People. "I feel alright."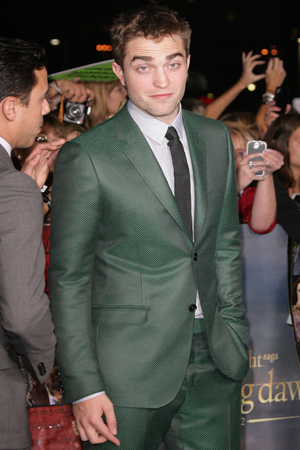 RPatz looked all sorts of amazing, thanks to his custom-made Chanel suit. "I had a dream about an emerald-green houndstooth suit," he said. "I got Gucci to make it."
It looks like we're not the only people to notice that the girl known as Bella Swan has gone through quite the sartorial change over the past year. The actress — known for her grungy hats and wide assortment of T-shirts — has reportedly adopted an all-designer wardrobe since her cheating scandal came to light this summer.
The cost? A cool $49K, according to a totally serious investigation by U.K. tabloid Heat. For starters, she opted for a colorful Zuhair Murad dress for her post-scandal stop at the Toronto International Film Festival with a staggering $22,000 price tag. She also wore a $7,300 Balenciaga outfit to a screening of On the Road earlier this fall.
"It's an odd relationship that us actresses get to have with fashion," she said earlier this month while filming a Balenciaga commercial.
"I had to have a relationship with fashion from such a young age — you walk down the red carpet, and it matters. It's strange," Stewart added in an October web chat.
The brunette added that she's still a simple California girl at heart.
"I'm from LA and unless the occasion calls for it, I'm a really simplistic, comfortable, straightforward dresser — I don't really think about it," she said. "I go anywhere outside of LA and I'm like, 'Oh God. I forgot to put socks on. I probably look silly, it's winter time.'"
Images courtesy WENN.com
Tell us: What do you think of Kristen Stewart's dress at The Twilight Saga: Breaking Dawn — Part 2 premiere?
Read on for more Kristen Stewart style
Friday's Fashion Obsessions: Taylor Swift and Kristen Stewart
Kristen Stewart goes topless for On the Road
Steal the style: Snow White and the Huntsman