pretty, pretty presents
Gel eyeliner. Rollerball fragrance. Matte lipstick. Glitter nail polish. As SheKnows' associate beauty and love editor, my preferred taste (obsession) for all things beauty and style wasn't learned overnight. But that doesn't mean it can't be.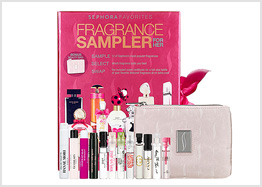 Gift sets
Over at my own personal mecca, more popularly known as Sephora, you can buy a beauty gift set for every type of girl, whether she's into makeup or skin care or hair — or she's not. I must say, experimenting with fragrance is a must for every type of girl breaking into the beauty world. It makes you feel like a new person every day when you're wearing a new scent. Sephora offers the "Fragrance Sampler for Her" gift set, which includes 12 fragrance samples of hot-on-the-market scents. You can pick up this game-changer for $50 ($105 value) at your local Sephora.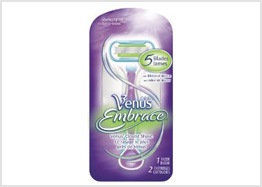 "Nice stems"
Don't pretend you don't remember this line from the classic '90s flick Clueless, when Christian says this to Cher during homeroom class; the light bulb that is Nair went off in all teenage girls' heads. But these days, we don't need to depend on the smell of burning hair for smooth legs to wear with short shorts — we have Venus, specifically, Venus Embrace. This new five-blade razor is built for smooth, soft legs and it does its job. This little guy makes a perfect stocking stuffer for your tween sister or your sorority sister. (Don't worry, they won't be offended — after all, you're just trying to help.) Find it at your nearest Ulta for $13.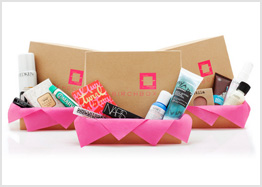 Birchbox
Whether you're a beauty fiend or just breaking into the world of outer beauty, you'll love this monthly subscription box and all it has to offer. What woman doesn't love fragrance samples from high-end designers? Or hair serum from an organic company? Or skin care samples specific for your face type? Not to mention so much more. Plus, your gift recipient will have something pretty, shiny and new to look forward to each month. (And don't be surprised if you end up buying a subscription for yourself!) Get started at the Birchbox website and choose from $10 a month for a monthly box of four to five product samples or customize it with their other subscription options.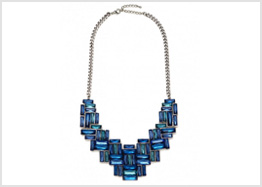 Pretty baubles
Every girl loves pretty jewelry — especially when the pretty jewelry is sparkly baubles. Give the gift of sparkle and shine this holiday year with this Azure Weave Bib ($36) from BaubleBar. It's gorgeously intricate and the unique shades of blue make a great present for your girlfriend celebrating Hanukkah. Whatever the occasion, this will make a cherished and wearable holiday gift. I plan on buying this as a present for myself and wearing it winter to summer, since it's versatile enough for all seasons.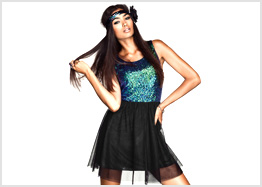 Glitter her
Is your friend obsessed with glitter? Does she steal the show with her fun, chic outfits? Does she have a bubbly, infectious personality that matches her sparkly style? Get her something that will make her squeal with delight, like the green sequin and tulle dress from H&M ($30). It's fun and fabulous, much like your friend! You know she'll love it, so why not get it?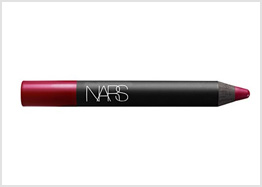 Pretty pout
Give the gift of sultry color. These NARS Velvet Matte Lip Pencils ($24 each) will change your giftee's world. They'll love the smooth, matte color that's rich and alluring; I suggest "Damned" for a "come hither '90s grunge-but-chic" look. Whether your pal's a savvy Manhattan gal or an aspiring country singer, she'll play either part well with one swipe of this stuff. Trust.

In time
In case you didn't know, rose gold is in, especially for watches. And chic is always in, which means this Michael Kors "Darcy" round bracelet watch ($225), will make the perfect gift for any stylish lady. It's not just any watch, either, so make sure you gift this to someone you know who will love and cherish it.

Morning-after clutch
If you haven't been lusting after Rebecca Minkoff's M.A.C. bag, then you obviously already own one. But if your friend hasn't seen the light, get this bag for her. It's perfectly mini and perfectly shiny. Get her this Rebecca Minkoff metallic mini M.A.C. bag ($250), for the holidays. There, I said it.
More Editor's Picks