Get the oil out
Blot away any excess oil on the skin's surface by gently pressing and patting with either a tissue or a blotting sheet (Tatcha Japanese Blotting Papers). Those with normal to dry skin can skip this step.
Blend thoroughly
With a clean makeup sponge (e.l.f. Blending Wedges), use a gentle buffing motion to smooth out foundation, concealer and blush you started the day with. Make sure to buff out all streaks and edges as you go. If you have oily or combination skin, make sure you followed the first tip before doing this.
Condition your pout
Remove all of your lipstick and apply a light layer of lip balm (Blistex Lip Medex) to condition your lips while you touch up the rest of your face.
Re-apply
Apply fresh foundation (Clinique Even Better Makeup) over worn down areas or around the mouth; blend it in with your makeup sponge.
Blend away blemishes
Reapply concealer (Laura Mercier Secret Camouflage) on blemishes and under the eyes (if that area looks a bit dark).
Ready? Set?
Apply pressed powder (Cargo blu-ray™ Pressed Powder) to re-set freshly applied foundation and concealer.
Blush on
Blush is usually one of the first parts of makeup to fade, so reapply if needed. Also keep in mind that you'll need a bit more color for dimmer evening lighting. Bonus tip: Rose or Mauve toned blush (like Nars Dolce Vita) creates the most natural looking flush of color on the cheeks.
Over the eye
If your eyeshadow has creased, blot the area gently with a tissue or blotting paper and then use a brush or sponge to smooth out the color (see tips 1 and 2). Apply a little pressed powder over the area to even out the shadows. Finally, reapply any colors (Smashbox Photo-Op Eyeshadow) that have faded during this process.
Touch up eyeliner
Touch up your eyeliner (Stila Smudge Stick Eye Liner) particularly under the eyes where it might have smeared. Use the corner of your makeup sponge or a Q-tip to clean up the smear before you reapply and then set the liner with a matching powder eyeshadow.
Dress up your pout
Finally, blot off any excess lip balm and reapply your lipstick (Ellis Faas Lips).

Festive fun tips
You can layer any of these tricks into the touch-up to give your makeup some extra party pizzazz.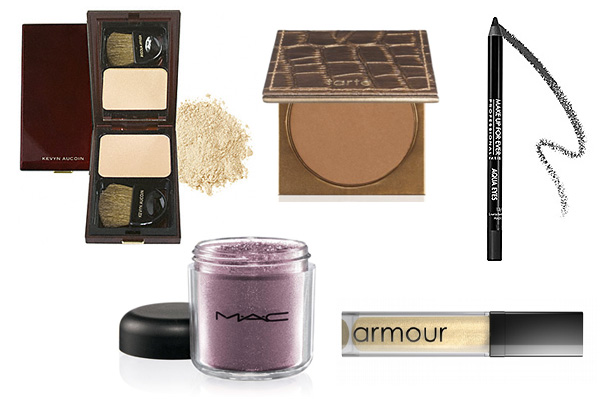 Above all… remember it's the holiday season, so have some FUN with your makeup. Now don't just stand there, powder that nose so we can go party!
More on beauty
Fall makeup trends
The little things in beauty
Beauty tips from backstage