Pretty & preppy
Not sure what to wear when you meet his mom? We can suggest a perfectly preppy ensemble that's sure to impress. Start with knit tights and a pleated skirt, which is youthful yet sophisticated. Add a black turtleneck for a streamlined look, step into some wedge booties and top everything off with an eye-catching statement necklace.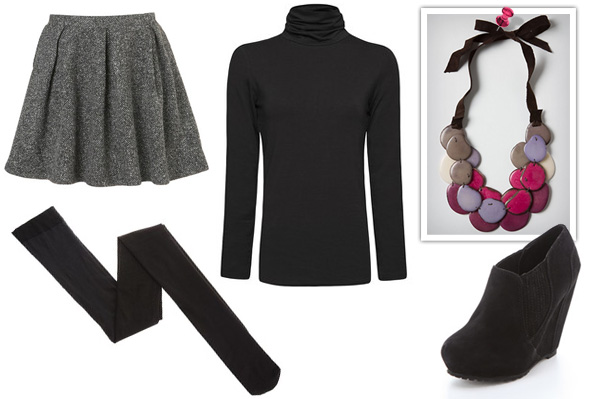 Get the look: Topshop Tweed Inverted Pleated Skirt ($60), Mango Turtleneck T-shirt ($25), Armani Exchange Opaque Tights ($20), Anthropologie Sea Shingle Necklace ($68), Kera Wedge Booties ($125)
Comfy-chic
While jeans and a T-shirt are far too casual for a first-time mom meeting, you can still create a comfortable yet pulled together look with denim as your base. Start with colored denim in something vibrant, add a cozy sweater in a rich fall-ready hue, some stylishly structured boots and a blazer to add a more formal twist. A beaded cuff helps bring everything together for a no-fail meet-the-mom outfit.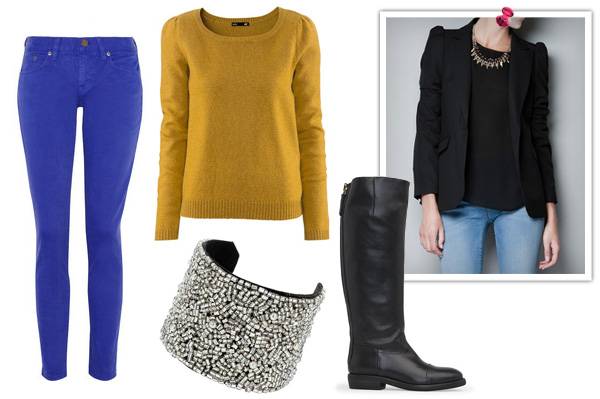 Get the look: J. Crew Toothpick Low Rise Skinny Jeans ($125), H&M Wool Blend Sweater ($30), Mango Leather Knee Boots ($280), Zara Blazer with Shoulder Detailing ($100), Topshop Mix Beaded Cuff ($28)
Fresh and fabulous
Shorts with tights can make for a fun and fresh fall outfit and something ideal for meeting his mom for the first time. Go for tweed or herringbone shorts, which are perfect for cooler weather. Add tights and slouchy boots and a sweater in a bright color. Pull the look together with a simple clutch and you're ready to make a great first impression.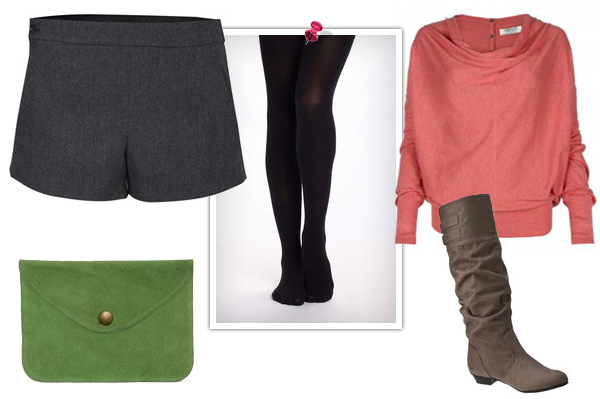 Get the look: French Connection Isar Herringbone Mini Shorts ($128), Anthropologie Opaque Tights ($15), Women's Mossimo Kailey Flat Slouchy Boot ($30), All Saints Elgar Cowl Neck Pullover ($130), American Apparel Small Suede Envelope Clutch ($28)
More style tips and trends
Color crush: Oxblood is the new black
Print power: Animal print pieces we love
Trendspotting with Jill Laine: Prints you'll fall for