Are you an Ann Taylor fan?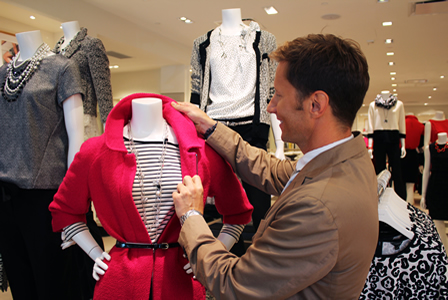 SheKnows caught up with Andrew Taylor at the opening of "the new Ann," one of the many concept stores that Ann Taylor has opened around the nation.
Andrew Taylor talks Ann Taylor
As the style director for the company, he offered some dos and don'ts for fall fashion and moms on the go. He even dressed up one of our editors (who happens to be a busy, busy working mom herself!). Here's what you can expect and how to brace yourself for the transition into fall trends.
"Don't be afraid to try on a dress. Most people think that you only wear a dress for dressy occasions," said Andrew. However, he explains, "You can wear a very simple, sleeveless chic dress that would work even if you're running errands." He also advises you to embrace colors and prints in order to embrace a feminine look... even if you're just going to pick up the kids from school.
Watch the look book:
"At the end of the day, I think every woman wants to up her game and look great no matter what she's doing."
1
Don't say goodbye to color
Remember all those bright neons and stand-out colors that we saw for spring and summer? They aren't going anywhere! Color is still packing a punch in seasonal fashion. It's just about redefining the hues for a more fall and winter vibe. "What's very interesting is to see the new interpretation of color for fall," said Andrew.
2
Say hello to a new, old print
To those who say that animal prints are just for divas, we say, don't rule it out so soon. As Andrew pointed out, prints are able to be part of a much more sophisticated series of looks now-a-days. Ann Taylor's fall collection brings this idea to life.
"Another big trend for fall that's really exciting is prints. We're able to take animal prints and [use] them in ways that we've never done before," Andrew commented. Specifically, the snow leopard, what they are calling a modern take on the previously loved leopard prints.
"Accessories are always an amazing trend," says Andrew. "Look at the mixed media, the enamel and pearl cuffs. Things like that, that are very new feel, very fresh."
All trends aside...
"The last thing you want is something working against you."
Ann Taylor has always attracted working women and busy moms, and there's a method to their madness. Be yourself!
Andrew reminds us, "It's just as important to feel good on the inside as it is to look great on the outside. So wear things that are going to make you feel better about yourself because we know that we have so many challenging things in our life every day, the last thing you want to do is have something that's working against you."
He leaves you with this...
"Be natural, have fun, look chic."
Watch the full interview:
More style chats
Padma Lakshmi's winning recipe for beautiful skin and top style
Happy Endings' stylish stars on their style choices
Jenna Dewan-Tatum's skin care advice