Harvest look 1: Cute and cozy
Yellow is one of our favorite harvest-inspired hues and a great shade to build an outfit around. Start with a cozy, cable knit sweater. Layer over skinny jeans, add a black wedge mid-height boot and top the relaxed, weekend-ready look off with a leather jacket (real or faux) and a large tote in a rich plum color. Whether you're heading to your favorite brunch spot or shopping with friends, this is an easy way to look great while feeling ultra-comfy.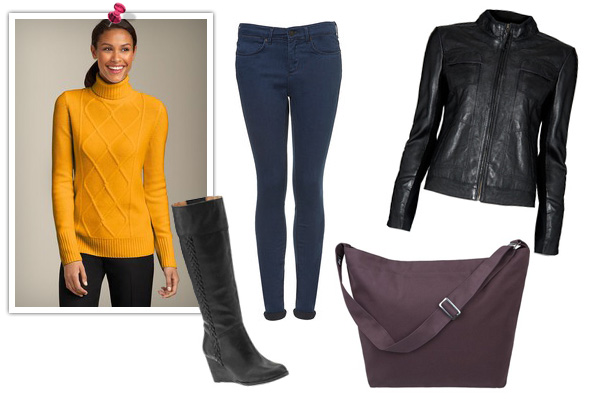 Get the look: Talbots Cashmere Cable Turtleneck ($249), Topshop Moto Blue Supersoft Skinny Leigh Jeans ($76), Lucky Brand Sanna Boots ($219), Mango Leather Cropped Jacket ($130), Marimekko Weekender Two Plum Bag ($195)
Harvest look 2: Office-friendly
Spicing up your office look doesn't have to be tough. We suggest starting with a prominent piece in oxblood (a favorite fall hue) and building from there. Add a fitted button-up blouse, black tights, sleek ankle booties and top the look off with a cropped denim jacket that can easily take your ensemble into evening.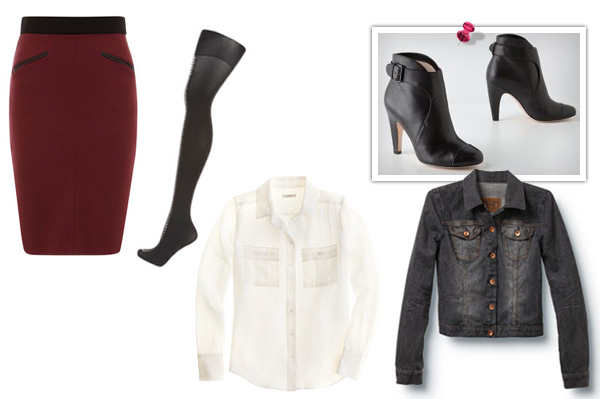 Get the look: Dorothy Perkins Oxblood Ponte Pencil Skirt ($35), Emilio Cavallini Black Tights ($34), Anthropologie Nightfall Booties ($200), J. Crew Blyth Blouse ($110), Quicksilver Easter Lookout Denim Jacket ($75)
Harvest look 3: Date night
Putting together a stylish fall-ready date night look is easy with the right pieces. Start with a patterned dress awash with harvest-inspired hues and add tights and to-the-knee stacked heel boots. Enhance your outfit with some gold accessories (we love a cuff) and tote all your essentials for a night out in a bold red bag.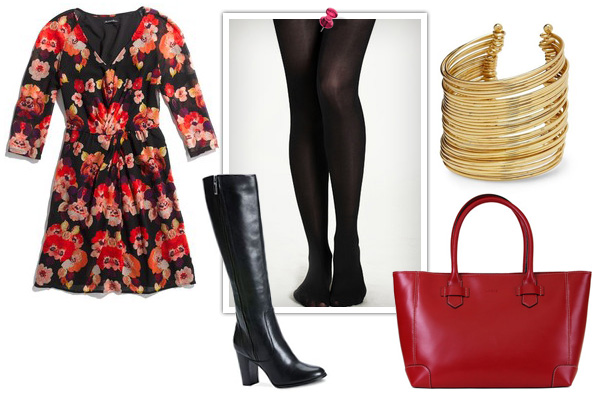 Get the look: Madewell Mirrorflower Dress ($165), Threadsence Hidden Fate Tights in black ($16), Calvin Klein Hanabell Tall Boots ($239), Hive & Honey Extra Wide Wired Cuff ($26), Audrey Lilian Shopper ($238)
More style tips and trends
Trendspotting with Jill Laine: Prints you'll fall for
4 Fall dresses under $100
How to wear the trend: Sheer tops