Being fashionable is practically in Jackie Kennedy's old job description. It's not as simple as a blue or red tie and a meaningful American pin, as illustrated by their husbands (even men in politics have it easier). Every dress, shoe and accessory choice is political — especially during campaign season. Here are the lovely ladies and their debate outfits dissected.
Michelle Obama vs. Ann Romney: Debate one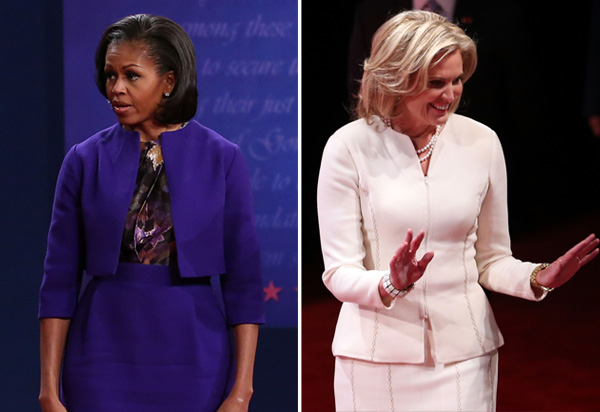 Michelle Obama recycled a structured blue-purple and geometric print "Lavender" dress from London-based designer Preen's 2011 collection. Wearing a designer from a different country could be representative of Obama's platform on strong foreign policy and unity; the queen and her subjects are some of our strongest allies. The fact that it's 2011 and not in season sends the message that being up-to-date on fashion or materialistic things isn't their platform.
We've seen this dress before during Michelle's trip to the UK last year, and re-wearing outfits makes her personable to the middle and lower classes. Her color was bold and the print displayed her personal style and outlook on the campaign — unafraid.
Ann Romney pulled a different message out of her closet for the debate. She opted for a gorgeous and sleek two-piece white suit designed by New York City designer Alfred Fiandaca, accompanied by a string of delicate white pearls. The outfit is undoubtedly like her platform: conservative. White could have been symbolic for a white flag. Prior to this debate, the Romney campaign had a rough and poll-killing few weeks on the campaign trail.
The American-based designer illustrates Mitt's goal to keep jobs and expenditure in America. While Michelle put her personality a little more out there, the focus definitely had to be all on her husband tonight. Ann managed to look classy, elegant and fashionably supportive of her husband.
Michelle Obama vs. Ann Romney: Debate two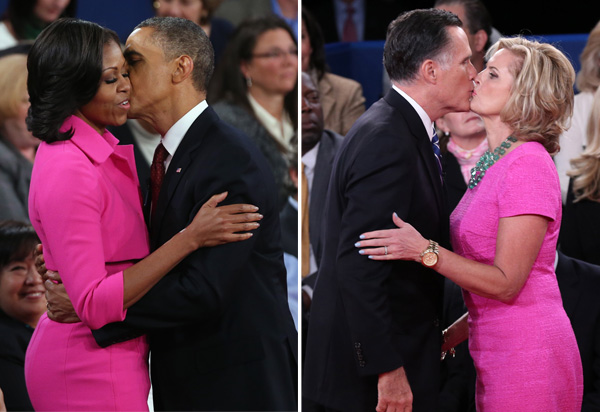 Michelle and Ann's nearly identical pink ensembles couldn't have been more representative of last night's debate: tense, competitive and hard to distinguish a winner. Both presidential candidates got ruthless on stage as they tried to outperform the other, but while CNN anchors were deciding which candidate debated best, fashionistas are deciding who wore it best.
Both first lady candidates chose striking fuchsia dresses for the second debate in New York. Michelle Obama went with a knee-length structured dress with a matching mid-sleeve jacket and kept accessories minimal with a fine pearl necklace and an equally white smile. Ann Romney showed off her sense of style with a short-sleeved textured outfit accompanied by an aqua-colored statement necklace.
So was this a show of bipartisanship? It could have been. Various polls have showed the American people are disenchanted with the political process and the two parties who are unable to reach an agreement, let alone advance the country for the better. But let's keep in mind one of the biggest deciding forces in the upcoming election will be women. Obama is slightly ahead in polls when it comes to women. The Democratic party wants to maintain that lead while Republicans want to erase it.
The pink worn by each lady could symbolize support for Breast Cancer Awareness month, or it could be to emphasize their femininity and ability to relate to women — both working in favor of their husband's campaign and appealing to America's ladies. The nearly identical outfits were undoubtedly symbolic of the competition and what's at stake in this upcoming election.
Tell us
We can't wait to see what these ladies wear to the next debate! Michelle and Ann may go neutral-toned as their husbands get more aggressive, or maybe they'll daringly wear red or blue. Who has your vote so far? Share in the comments section below!
More presidential fashion
Beyonce and mom introduce Obama-inspired baby clothes
First lady Michelle Obama ignites nail trend
Michelle Obama celebrity style
Photo credits: Getty