A freshly manicured set of nails has the power to be your best fashion accessory, so snatch up one of our picks for the hottest fall nail polish colors out there.
1
Deutsch You Want Me Baby?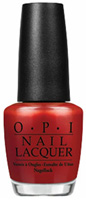 Reminiscent of crisp fall leaves, Deutsch You Want Me Baby? from OPI's GermanyCollection is just orange enough to make the color pop without crossing over into Halloween territory. We're sure this sizzlin' shade will become one of your fall faves too! (opi.com, $9)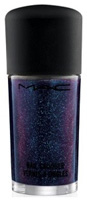 Shimmery with just enough intrigue to keep it interesting, MAC Cosmetic's Formidable is one polish that will keep you guessing. Is there teal in there? Is it pink? Yes to both! And don't forget the glitter! If you're looking to make a sassy statement, this one is for you. Yes, please! (maccosmetics.com, $16)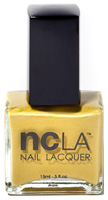 NCLA has done it again! You'll dazzle everyone who catches a glimpse of Dirty Martini, an intense olive cream with a big personality. Not quite green, but not exactly yellow, this is one shade that'll put a skip in your step from point A to point B and beyond. See for yourself! (shopncla.com, $16)

Kiss bare nails goodbye because after getting your hands on Julep's Megan, you'll never want to take it off. This metallic deep blue/green is perfect for fall and winter alike and is also a dream to apply. Complete with a flat brush containing micro-frayed brush hairs, you'll fool everyone into thinking you went to the salon. (julep.com $14)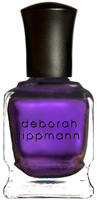 Deborah Lippmann knows a thing or two about nail polish, so get on board with one of our faves that will turn heads everywhere you go. This gilded ultra violet chrome polish called Private Dancer is for the girl looking to make a statement. Forget the matte shades and wear this hue when FUN is what you're after! (lippmanncollection.com, $18)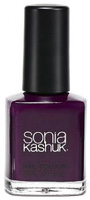 Affordable and oh-so-perfect for fall, it's hard to resist Sonia Kashuk's latest Fall/Winter 2012 nail polishes. Hocus Pocus, a deep, vampy purple, is our favorite shade from the collection and will have you looking plum all the way through winter. (soniakashuk.com, $5)
7
Lovely Jubbly Nail Lacquer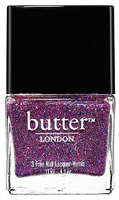 Looking for a little glitz and glam? Butter London understands and has just the polish you need to put some sparkle in your life -- well on your hands at least. The magenta color is called Lovely Jubbly Nail Lacquer and this glittery polish will give your day a little boost every time you look at your hands. This must-have is one fall nail polish we couldn't resist. (butterlondon.com, $14)
Watch: How to create an ombre nail design
Katie Cazorla demonstrates an at-home gel manicure, ombre style.
More on nails
Kate Spade Fashion Week nail look
Nail art tutorial
Nail Files' Katie Cazorla talks tips and trends