(page 3 of 3)
Top trends you can do at home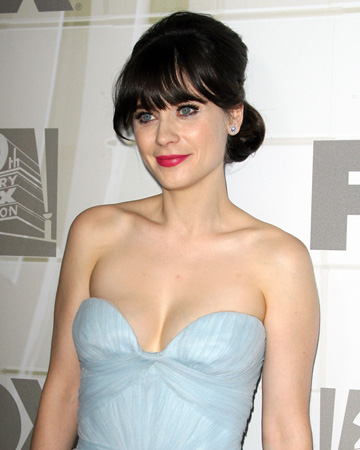 Emmy style
The Emmys are always fun to watch -- some look out for the stylish threads or mod makeup, but for me, it is all about the hair. Emmy tresses are always a hot indicator of trends to come for fall. From Hollywood darling Zooey Deschanel and her perfect bangs to va-va-voom star Christina Hendricks and her retro waves, these red carpet stand outs were the "mane" attraction.
Here are my top picks for award-winning hair -- and luckily they are all pretty simple to recreate at home!
Heavy bangs
Worn by:
The queen of perfect heavy bangs, Zooey Deschanel
Hannah Simone
Jena Malone
How to achieve at home:
Have your stylist cut them for you!
Dry them using a flat brush and brush back and forth using the curve of your forehead to achieve a slight bend in the ends.
Do not use a round brush; you'll have bubble bangs. Not cute!
The ends of your eyebrows are a good guide for how wide the bangs should be cut.
Use the bridge of your nose as a guide for length.
Most stylists do complimentary bang trims, so take advantage of this!
Secret
Also, I have a little celeb hair stylist secret for you. When my clients can't commit to cutting bangs, I always recommend a clip in bang. My favorite is from Hot Heads. It looks natural and the best part is that it's temporary.
This fall, go ahead and rock these three trending lock looks from the Emmys and I can guarantee you'll feel like you're having a red carpet moment all season long.
More Emmys
Get the look: Emily VanCamp's Emmy Awards makeup
SheKnows dresses up for the Emmys: Get the look!
Get the look: Heidi Klum's Emmy Awards hair
Photo credit: Adriana M. Barraza/WENN.com