(page 2 of 2)
MAC collections we're lusting after...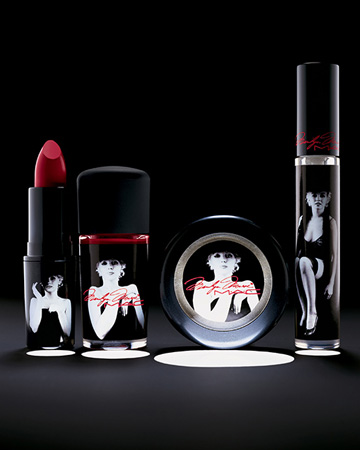 makeup review
There's nothing temp about MAC's new "Office Hours" collection which gives you every reason to wear makeup for a long time without worrying about budging and smudging. As for the new Marilyn Monroe collection? Va va voom!
If you're looking for something a bit more risque than Office Hours, then look no further than the new Marilyn Monroe collection from MAC, which is all about pure platinum Hollywood glamour and a nod to the 50th anniversary of her death.
Marilyn Monroe Collection
The special packaging uses imagery from The Black Sitting and is limited edition all the way. This holiday 2012 collection is all about the va va voom effect, so think rapturous red lipsticks (a Marilyn trademark), delicious nail lacquers and false lashes.
The entire collection includes:
Large Eyeshadow ($21, Limited Edition)
How to Marry Soft white (Veluxe Pearl)
Preferred Blonde Pale champagne beige (Veluxe Pearl)
Silver Screen True silver (Veluxe Pearl)
Showgirl Dark blue gray (Veluxe Pearl)
Lipstick ($17, Limited Edition)
Pure Zen Frosted warm nude (Cremesheen) (Repromote)
Scarlet Ibis Bright orange red (Matte) (Repromote)
Love Goddess Mid-tone pink red (Satin)
Charmed I'm Sure Dark true red (Matte)
Deeply Adored Deep scarlet (Matte)
Dazzleglass ($22, Limited Edition)
Phiff! Sheer yellow peach (Frost) (Repromote)
Little Rock Soft sheer white with pearl (Frost)
False Lashes Mascara ($20)
Brow Finisher ($15)
Eye Kohl ($15)
Fascinating Intense matte white
Smolder Intense black
Penultimate Eyeliner ($19)
Penultimate Brow Marker ($19)
Lashes ($16, Limited Edition)
Powder Blush ($22, Limited Edition)
Legendary Pale soft coral (Satin)
The Perfect Cheek Neutral pink beige (Matte) (Repromote)
Lip Pencil ($17)
Beet Vivid reddish-pink
Redd Clearly red
Cherry Vivid bright bluish-red
Beauty Powder ($28, Limited Edition)
Forever Marilyn Sheer pale peach highlighter
Nail Lacquer ($18, Limited Edition)
Rich, Rich, Rich Glittery gold (Pearl) (Online Exclusive)
Vintage Vamp Rich deep retro wine (Cream) (Permanent)
Stage Red Dark berry red (Cream)
Flaming Rose True red (Cream) (Permanent)
Kid Orange Coral (Cream)
Bottom line
The star product in this collection could well be the lipsticks and the gorgeous Beauty Powder, which serves as a way to set the makeup as well as to highlight the complexion. We're loving all the nail lacquers too, especially the Stage Red, a dark berry red that's so classic yet so modern. Exactly the way MM would have wanted it.
The Marilyn Monroe collection is available for the holiday 2012 season now online and in stores.
More beauty reads
L'Oreal's Youth Code BB Cream
The Body Shop's beautifying oils
Make a statement with red lipstick