See what Nina had to say from one editor to another about must-haves, easy styling tips and the designers she was most amped about.
SK: Based on this week's runways, what are the top five trends every girl should try come spring?
Want more?
Read all the Celebs on Facebook fashion updates
here
.
Nina Garcia: As you saw on my Facebook, I definitely have some favorite trends for spring. One of them is the '60s mod look that we saw at Marc Jacobs. I especially love the '60s-inspired short mod skirts. White leather dresses and tops as seen at Alexander Wang and DKNY were huge. I posted a lot of pieces that are black and white optical illusions and black and white stripes from Instagram when I was at the Michael Kors and Marc Jacobs shows. Denim will play center stage for spring, as it did for DKNY and 3.1 Phillip Lim. Sandal-boots are a definite! They were everywhere at Altuzarra and Alexander Wang.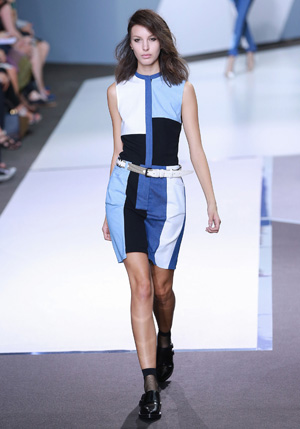 "Denim will play center stage for spring."
SK: Who are your celebrity style crushes?
Nina Garcia: Jessica Chastain, Kate Bosworth, Gwyneth Paltrow, Victoria Beckham and Cate Blanchett.
"It's all about those pieces that can move from day to evening. For spring, shorts and beaded pieces are a great for this. "
SK: How can the average girl take a high fashion runway look to everyday wear?
Nina Garcia: It's all about those pieces that can move from day to evening. For spring, shorts and beaded pieces are great for this. You could take a pair of cute shorts or a pair of cool skinny optical pants and pair them with an Oscar de la Renta-inspired beaded shirt.
SK: Who is your favorite designer right now?
Nina Garcia: I really enjoyed seeing all of the up and coming designers in New York and I'm really excited about all of the changes with Ralph at Dior and Hedi at YSL. I am looking forward to seeing what they show in Paris.
SK: What designer were you most surprised by this week?
Nina Garcia: I was really inspired by the futuristic '60s trend that we saw at many of the shows.
SK: Have you ever considered designing a line yourself?
Nina Garcia: Yes, I've been approached to design many times, but right now my focus is on being an editor.
SK: Tell us about your recent work with JC Penney. We love that you partnered with such an affordable brand.
Nina Garcia: I love my partnership with JC Penney. They are making exciting and unprecedented changes that will really reinvent the brand. It is one of the most forward-thinking retailers in America and they really care about their customers from beginning to end. They are all about providing the customers with fair prices, services and convenience -- no matter the price point -- and I am really thrilled to be working with them.

SK: What are three things you never leave the house without?
Nina Garcia: A pair of stilettos, my Tom Ford reading glasses and my favorite Clinique Chubby Stick Moisturizing Lip Balm in Whole Lotta Honey.
More on Fashion Week
Street chic: Fashionistas spotted at New York Fashion Week
New York Fashion Week: Our favorite trends
Fergie talks Fashion Week and the looks Josh likes
Photo credit: B.Dowling/WENN.com, Kyle Blair/WENN.com