Whitney Port showed off her funky style on the runway at the Whitney Eve 2013 spring/summer show at Lincoln Center during Mercedes Benz New York Fashion Week.
Aside from already popular trends like peplum, sheer fabric and maxi skirts, we saw the reincarnation of an old school favorite: the ankle bracelet.
But her accessories aren't like the delicate chains of the past. Whitney's anklets are chunky and bold, more heavy-metal than hippy.
Backstage after the show, we quizzed Whit on her new line and her tips for fellow fashionistas.
Q&A with Whitney Port
SheKnows: What was the inspiration behind this line?
Whitney: The inspiration was all about stones and natural elements and prisms. Obviously it was print heavy, and I mixed those feminine prints with more tomboy, oversized masculine silhouettes.
SheKnows: We are loving the ankle bracelet revival! Do you think these will make a full comeback?
Whitney: I hope so. I'm trying to make them!
SheKnows: What is your favorite thing in your own closet right now?
Whitney: This black blazer. I got it in Australia and I noticed that I wear it with everything.


SheKnows: What three things do you always have on you during Fashion Week?
Whitney: Lip gloss, soda and some nuts.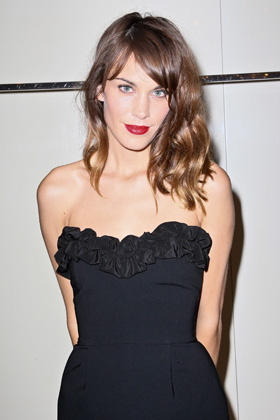 Whitney's
celebrity
style
crush
SheKnows: Who is your celebrity style crush?
Whitney: I love Alexa Chung.
SheKnows: What designer would you love to collaborate with?
Whitney: Alexander Wang.
SheKnows: Aside from a black blazer, what one thing should women definitely have in their wardrobes this fall?
Whitney: Leather jackets.
Shop Port's styles online at Whitney Eve.
More on Fashion Week
OPI hits the catwalk at New York Fashion Week
Rachel Roy's styling tips for "strong, working women"
RHOOC Gretchen Rossi shares her Fashion Week travel tips
Photo credits: FayesVision/WENN.com (Whitney Port), Getty (catwalk), Stefan Jeremiah/WENN.com (Alexa Chung)