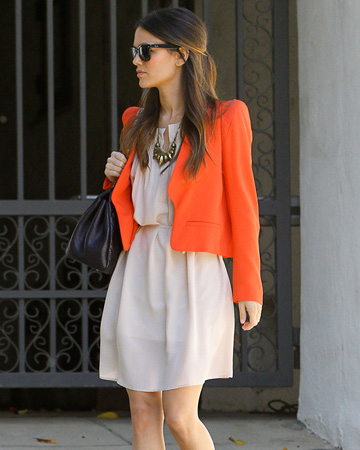 Summer to fall fashion
For a number of reasons, early September is my favorite time of year. The temperature is just right and the touch of crispness in the air is a reminder that the season is turning. With that comes the changing of the seasonal wardrobe – which can be cause for anticipation and excitement… or not!
For many of us, the idea of a wardrobe changeover is a rather daunting and dreaded task; however, it need not be. Labor Day does mark the end of summer whites and brightly hued fabrics. But beyond that, the wardrobe switch does not have to happen overnight. Just as the seasons transition over time, so can our wardrobe.
How, you ask? Well, between now and Oct. 1, gradually introduce more of those lovely autumnal earth tones and bold colors, while still dressing appropriately for the weather. Make Oct. 1 your goal date for completing the transition in your closet, and follow these simple tips to help you through the process!
Designate a time and a friend
Set up a time frame and give yourself a schedule. A day, an afternoon, a weekend. Whatever it is, make it realistic. Choose a friend who will give you honest feedback and can make the time commitment. In turn, you can help her with her wardrobe. It is more fun and productive when you have a friend who will keep you company and on track.
Divide and conquer
Keep it simple. Pull everything out of your closet and divide up your belongings by fabric, color and style.
Damage control
Twice a year, I like to send things out for a final cleaning and repair. Do this right before you pack things up for storage.
Love the drycleaner
Defuzz your knits and clean your garments to avoid the setting of stains. Have your cleaners box your items and wrap them in tissue as opposed to hanging things on wire. Storing things flat means items will keep their shape and help prevent wrinkles. Place moth-repellent sachets (like cedar chips) to protect the stored items and just like that, your clothes will be ready for next season!
Document
If you really want to keep things organized, an easy trick is to take a quick photo of what is being boxed. Tape the snapshot to the outside of the box or suitcase. This helps you in locating things for that impromptu winter getaway to a warmer climate, not to mention making that switch back to a summer wardrobe an absolute breeze!
More fall fashion
Shop the trend: Shades of green
5 Ways to wear a scarf
6 Accessories to complete your fall wardrobe
Photo credit: WENN.com