Start at night
A bright morning starts with a smart night. Start your skin care at night so your skin can effectively rejuvenate while you sleep. Try a brightening mask such as the Boscia Bright White Mask (sephora.com, $38) which uses whitening agents to even your skin tone and brighten your complexion. Another product to try is Korres Wild Rose + Vitamin C Advanced Brightening Sleeping Facial (sephora.com, $48), which combines stabilized vitamin C and rose oil to brighten and moisturize your skin while you dream.
Hot and cold
When you wake up, take two washcloths and run the first under very warm water. Place over your face and feel your pores open and skin refresh. Next, rinse the second washcloth in cold water and place over your face to invigorate your face and body. To perk up your eyes, keep an eye treatment gel like Lather's Toning Eye Gel with Vitamin K (lather.com, $28) in the fridge and place under your eyes after you wake up to look instantly awake.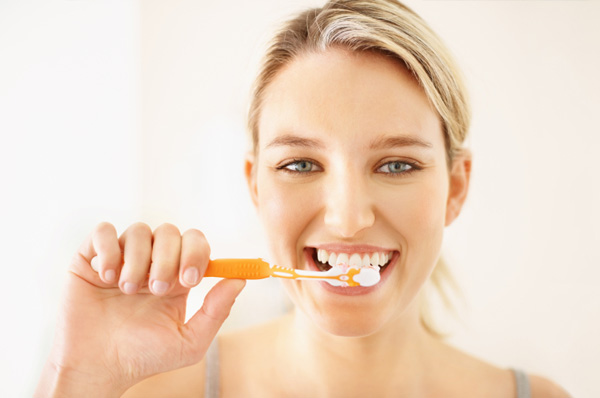 Smile wide
Use a tooth whitening toothpaste that also helps improve the health of your mouth, like Colgate Total Advanced Fresh + Whitening toothpaste (drugstore.com, $4), followed by a whitening mouth rinse to make your smile gleam.
Illuminate your skin
Using a foundation brush, apply a luminous base all over your face. Look for one that provides light, even coverage and has light reflecting minerals, such as Urban Decay Naked Skin Weightless Ultra Definition Liquid Makeup (sephora.com, $38). If you are in a hurry, simply apply an illuminating tinted moisturizer such as Laura Mercier Tinted Moisturizer SPF 20 Illuminating (sephora.com, $43). If it seems too "glowy," mix in a matte tinted moisturizer to create the perfect balance for your skin. Some days you might need more and some days a little less.
See the white light
To look bright eyed, use a white or cream pencil in the inner rims of your eyes. Follow with a dab on the inner corners of your eyes for instant optical illusion of alert eyes. Try Almay Wake-up Eyeliner and Highlighter (drugstore.com, $9).
More beauty for moms
Heat proof makeup for moms
Eco-friendly beauty for moms
New ways to brighten tired eyes