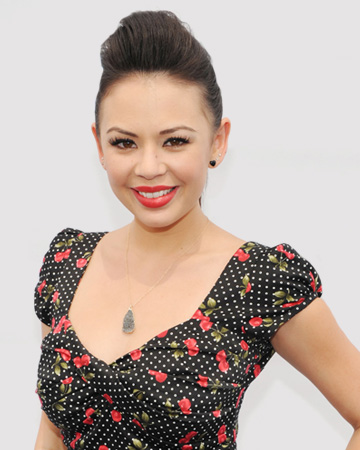 Can you keep her beauty secrets?
If you're a Pretty Little Liars fan, then you'll definitely recognize Janel Parrish as Mona Vanderwall in the hit ABC Family series. And just like Mona has a keen sense for perfecting her beauty and style on the show, so does Janel herself. Check out her beauty must-haves, just in time for the Pretty Little Liars season 3 finale!
Soap & Glory Glow Lotion
This lotion isn't just any lotion. It has the power to make you look like a sun-kissed goddess, which is one of the reasons that Janel Parrish of Pretty Little Liars loves this beauty must-have. "I love the shimmer and the way it makes my legs look sun-kissed," says Parrish. And we must agree, because her legs sure do look extra luminous in the hit ABC Family series.
Strawberry lip balm
Parrish has a sweet tooth for lip balm, specifically Rosebud Perfume Co. Strawberry Lip Balm. It's perfect for chapped lips and comes in an adorable vintage-inspired tin. It also contains a combo of rich emollients that lock in moisture and ban dryness. Parrish carries it everywhere, "I never leave home without it! It makes my lips feel extra moisturized and soft."
Kat Von D Tattoo Concealer
Did you know Parrish has a tattoo? Well, she doesn't but she sure loves this tattoo concealer, "I know it's for tattoos, but I use this on my face and it blends in beautifully and stays for hours." So there you have it, not only does this cover up tattoos, but it's the perfect everyday concealer for the girl-on-the-go. It's heavy duty, highly pigmented and water resistant -- what more can you ask for?
Smoothing Cream
Have you ever noticed how full, voluminous and smooth Parrish's hair always looks? Well, we did and we want to know how she does it. And now we do! Parrish loves TIGI Bed Head After-Party Smoothing Cream. It keeps hair silky smooth, shiny and healthy. Not only does it do all that, but it controls fly-aways and makes your tresses silky smooth. Parrish says, "This serum makes my hair feel super soft and takes care of pesky fly-aways!" So, naturally, we're on our way to get it.
Glide-On Eye Pencil
Get Parrish's fierce eyes with her favorite eye product: Urban Decay's 24/7 Glide-On Eye Pencil in Bourbon. This eye pencil has a creamy texture and delivers intense color. Bourbon is a glimmering dark brown shade that will make all peepers more vibrant. This pencil glides on smooth and is long-lasting. Parrish explains why she loves this product: "This eye pencil is the perfect shade of brown for brown eyes and has a slight shimmer that's stunning."
NARS Blush
We've all heard numerous beauty gals (including ourselves) rave about NARS blushes, and Parrish is definitely one of them. She loves the NARS blush in Orgasm, "It's the prettiest cheek color! I wear it every day!" And we can't blame her. With its sheer, soft pressed powder in a peachy-pink shade with a touch of shimmer, who wouldn't wear this every day?
More on beauty
Madonna's new signature lip color
Celebrity stylist June Ambrose shares her tips
5 Hot hair apps to try now
Photo credit: Jay Valena/WENN.com