Celebrity style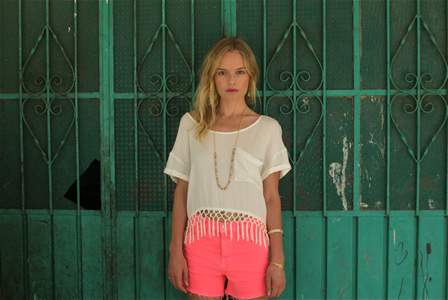 Maybe it's because she played a devout surfer in the movie Blue Crush (oldie but goodie) or the fact that her blonde locks look like the Jesus of hair did her dye job, but Kate Bosworth immediately makes us think of comfy, summer style.
Chic (and comfortable!) summer style
We'll work from the bottom up: Check out these adorable neon denim shorts and our favorite bling from Bosworth and JewelMint!
Kate collaborates with her stylist, Cher Coulter, to create chic jewelry designs, and even handbags, for her JewelMint.com boutique. They recently launched their July Fashion Film, and in it, Kate can be seen strolling through Me-hee-co in various pairs of neon shorts and pieces from the latest JewelMint collection.
1
Hot shorts in bright colors
---
Watch the fashion film:
More summer trends
Vintage-inspired looks for summer
Pretty little things: Vibrant summer finds
Trend showdown: Boater hat vs. the floppy hat