Celeb hair

We're obsessed!
We have a total hairstyle crush on Julianne Hough's chic 'do. Find out why in this week's installment of Celeb Hairstyle of the Week!
Julianne Hough is having quite the month! The young star had a fashion flop at the MTV Movie Awards, redeemed herself at the CFDA Fashion Awards and is ready for the premiere of her new film, Rock of Ages, later this month.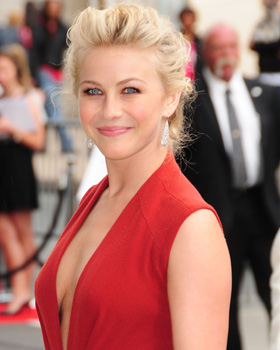 This week, Julianne is on top of our best dressed list, and we're also pretty obsessed with her hair, so we decided to give it a nice shout-out here! We adore a messy updo -- ladies, you want to look effortlessly beautiful, don't you? -- and it's a super hot trend for summer, so we're pleased that Julianne chose one to go along with her elegant red gown. The look has a nice unexpected juxtaposition that we love!
We're loving Julianne's cute hairstyle! How about you? Sound off in the comments! And check out other celebrity hairstyles!
More celebrity hairstyles
Celeb Hairstyle of the Week: Kate Middleton
Celeb Hairstyle of the Week: Chloe Moretz
Celeb Hairstyle of the Week: Claire Danes
Photo credit: Dan Jackman/WENN